Hi all,
I would like to get your advice on our estate planning ideas before we meet with an estate lawyer. In the diagrams below, ACC = Accumulation trust, BP = By Pass/Credit Shelter trust, CRUM = Crummey trust, IRA = tax deferred account, ROTH = Roth IRA account, and TAX = Taxable account (brokerage/bank).
We have 2 daughters and live in Massachusetts which has a $1M estate tax exemption.
While we are both living
, we would like to put the Annual Gift Tax Exclusion amount to Crummey trusts as shown below. We assume this will help to reduce our state estate tax.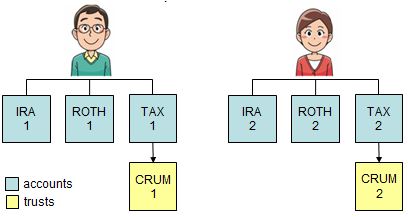 When one of us dies
, the deceased person's IRA and Roth will be rolled over to the accounts of the surviving spouse. $1M from the deceased person's taxable account will be placed into a Bypass trust to shelter the $1M state estate tax exemption. If the taxable account has less $1M then some money from the Roth will be used to fund the difference. If the taxable account has more than $1M, then the remainder can be transferred to the surviving spouse account to get the step-up basis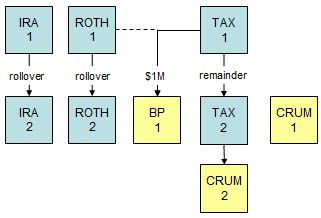 When the 2nd spouse dies
, the deceased person IRA will be rolled over to the children's inherited IRAs. A see-thru accumulation trust will be created to receive distribution(s) from the Roth account. Taxable account will be transferred to the children accounts to get the step-up basis.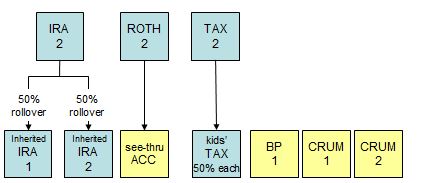 If both of us die at the same time
, then

Do these make sense to you? At the end, there will be at least 1 accumulation trust, 1 by-pass trusts, and 2 crummey trusts which could cause massive headache during tax time. Is there a way to consolidate them into fewer trusts?
Thank you for your time.

Edited:
to remove unnecessary bypass trust after death of 2nd spouse as pointed out by
@Joey Jo Jo Jr
below. Also remove all bypass trusts in the case when both parents die at the same time.