SlowMovingInvestor

wrote:

↑

Wed May 11, 2022 6:30 am

I'm not an expert in this area, but IIRC, the supply of rare earths is a genuine concern. China dominates there and these are used in the production of EV magnets.
Motors, which are important part of EVs and wind turbines, need rare earth minerals. Batteries are much bigger and heavier than motors.
Each tesla has upwards of 1,200 lbs of battery - which needs Nickel, Cobalt, Copper, Graphite, manganese and Lithium. China has bought off or controls supply of these minerals. Most of processing of these metals happen in China. So most EV makers will be beholden to China or their companies for a while. And they would want these companies to not just buy the metals, but also batteries made in China.
Every EV needs > 250 miles of battery. That is one disadvantage that Tesla has. In contrast other automakers can have a 50 mile battery and gas engine backup - Plugin Hybrid. Toyota, VW, Audi, Mercedes, BMW, Hyundai all are selling Plugin Hybrids and they are well marketed in Europe.
Europe's 2021 automotive sales included 9% of pure-EVs and 9% of Plug-in EVs. Tesla does not have Plugin EV technology and Elon dislikes it just like Lidar. This is a long term negative for Tesla, just like without radar/Lidar FSD wont work..
Will discuss how Tesla has fallen behind on battery technology. Their Battery day was Sept 2020 - promised technologies 4680, structural batteries are behind.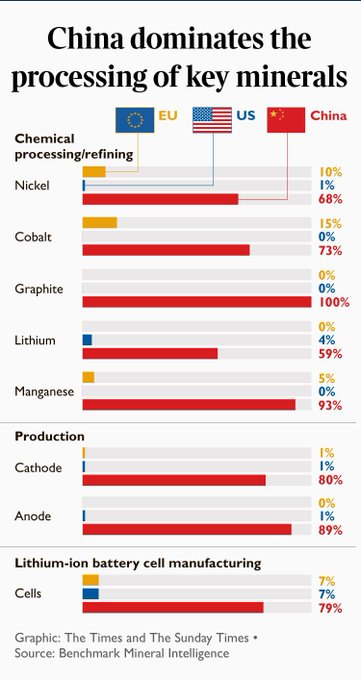 Elon first promised a $25,000 EV back in 2018, which he said was possible within three years.
https://www.theverge.com/2020/9/22/2145 ... balt-plaid