Last 90 days: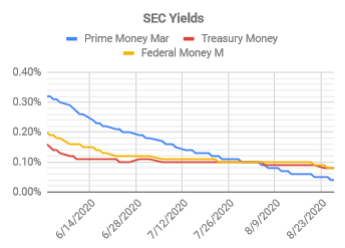 Of course this is for Prime investor shares. Admiral shares is at 0.10%
Electron

wrote:

↑

Fri Aug 28, 2020 1:10 pm

The higher yields may be the result of the two year Treasury Floating Rate Notes (FRNs) held in the Federal and Treasury Money Market funds. Treasury Floating Rate Notes pay a rate determined by the most recent 13 week T-Bill discount rate

plus

a fixed spread determined at the time of the FRN auction.

The Treasury fund recently held six FRNs with spreads of 0.300%, 0.220%, 0.154%, 0.139%, 0.115%, and 0.114%. Those spreads are quite attractive at present with 13 week T-Bills at 0.101%.

The two year FRNs should add incremental yield as long as they remain in the fund.
That could explain why Treasury MM yield is 0.08% compared to my model yield of 0.03%. Model yield is 7-day average of 1m, 2m and 3m averages of 1m, 2m and 3m Treasury yields respectively minus 0.09% ER.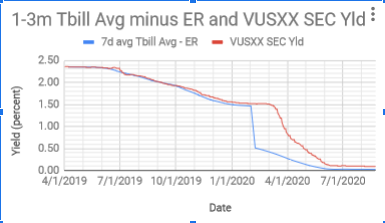 Kevin