Recent eFund discussions had me running further analysis, and the results do change my opinion somewhats.
Constraints:
- We are not doing the keep eFund as bonds in 401k and swap out by selling equities in taxable.
- We are still keeping a separate physical eFund (so no co-mingling with main portfolio).
The issue with keeping eFund as pure cash is the lack of returns. We can get around this by:
- Keeping eFund as cash and use various bank hacks to get higher than average returns, like doing multiple bank bonuses
- Keeping part of the eFund as a balanced fund
Bank Hacks Method
- I don't do bank hacks very regularly, but this year I'm projected to hit $1800 with a $50k capital.
- There are basically two type of bank bonuses, one require you to open a checking account and do some direct deposit usually with a small $1-5k deposit to avoid fees. The other type is opening a savings account and you deposit typically $10-50k to get the bonus.
- Based on my limited analysis it seems that the APY returns do not scale well beyond $25k. This is because the checking bonuses don't require more than $25k, and saving bonuses while are able to get more at $50k sometimes do not double the bonus
- Based on 2020 expected bonuses, $1800 per 50k that's 3.6% APY + 1% APY (the extra 1% is keeping money in savings account)
- Based on 2020 expected bonuses, If I were to adjust the capital to 25k, the bonus drops to $1200 per 25k that's 4.8% APY + 1% APY.
- Another bank hack method is to have rewards checking account that typically pay 3-5% APY, but the limit is also capped usually $10-50k max. So multiple rewards checking account are needed to scale.
- In either case, these methods require some overhead for maintenance.
Balanced Fund Method
- In this case, you keep part of your eFund in a balance fund, and the other part as cash (CDs/high-yield savings whatever).
- The biggest issue is if you do this and a recession hits you will be underwater compared to the pure cash approach.
Based on this data we can conclude the following:
- Even if I can sustain the bank hacking methods and get 4-5% total APY (for $50k), which I'm not fully certain if it's sustainable, it will underperform a balanced fund. Wellington gives 7.5% APY from 2005-2020.
- However because bank hacking methods scale well under $35k, I propose combining both methods.
- Here's the result of some projections from 2005-2020 using Wellington data, a hybrid 50/50 approach and pure AdvCash. For 'AdvCash' I use return brackets: 6% APY for under $35k, 5% for $35-50k and 4% APY for over $50k.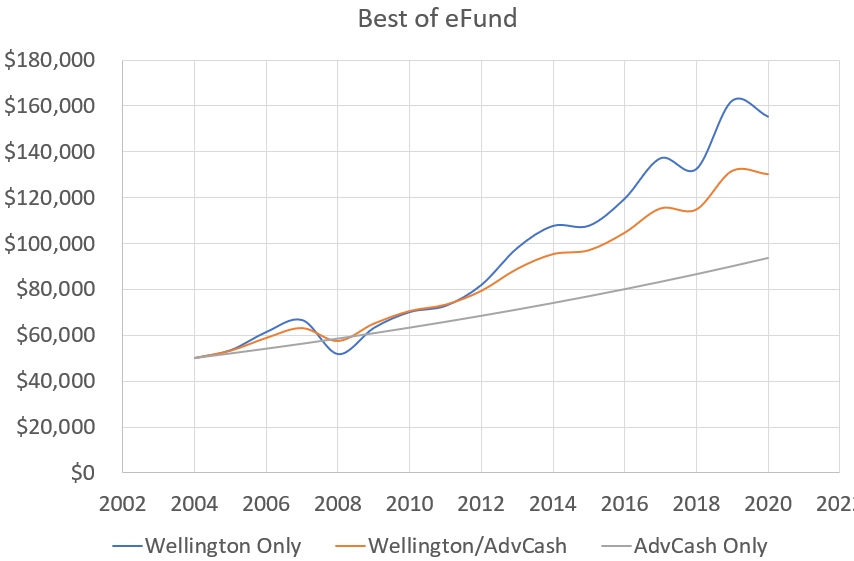 - It looks even if we started a reasonably bad time of 2005, where the crash happened 3-years later, the hybrid method avoids the scenario of losing
substantially against AdvCash.
- But it may need as long as 8 years for the hybrid method to outperform AdvCash by a significant margin.
- The hybrid method also does not substantially underperform pure Wellington until 10+ years later. This is likely coming from the higher-than-expected APY from AdvCash.
Based on these new findings it seems like the better option for me is to keep 1st yr eFund ($25k) in AdvCash, but put the 2nd yr eFund in Wellington. Hopefully any unemployment in the future will not exceed 1yr, as this strategy works best if the Wellington portion remain untouched.