In several of the threads about long-term care, some have noted that one of the big risks is needing significant long-term care at a relatively young age, such as in your 50s. But when I'm looking at the data on the subject, it seems that the likelihood of needing LTC at a residential care facility or nursing home before age 65 is
tiny
. Keep in mind that these numbers are only for those receiving care at an "institution" (i.e. a RCF or NH).
This table comes from the Congressional Budget Office's 2014 report on LTC. They reported that only 1.3% of those 65-74 are receiving LTC at an institution, and only 3.5% of those 75-84 are receiving the same. Compare that to the 13% of those 85 and older who need it.
https://www.cbo.gov/sites/default/files ... 63-ltc.pdf
Even data from the potentially biased American Association for Long-term Care Insurance reports that only 4.5% of initial LTC claims were made by those under age 70.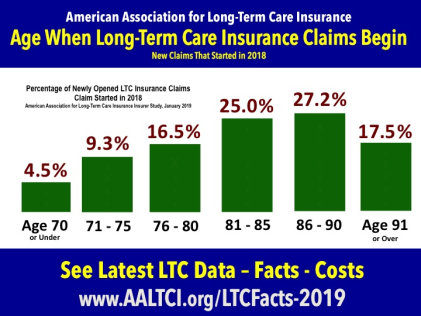 http://www.aaltci.org/long-term-care-in ... s-2019.php
While this doesn't provide data on how many of those younger than age 65 are receiving LTC at an institution, simple extrapolation indicates that the number is very low, close to zero. This is not to belittle or ignore those who do, but they most definitely appear to be in a tiny minority.
If anyone can find data that indicates how many of those under age 65 need LTC, I encourage them to share it.