InvestInPasta

wrote:

↑

Wed Aug 08, 2018 6:37 pm

Beware of what you take for the truth.

The article is absolute nonsense, for the following reasons:

1) Dow returns including dividends are freely available online

here

Anyone can see that from 1929 the

Dow took to recover

:

25 years (until 1954) - price only not counting inflation (nominal return)
21 years (until 1950) - dividend included and counting inflation (real return)

By no means the market recovered in 4-5 years

(mid 1934)

as Mr Hulbert seem to think.

2) According to Hulbert the market recovered in

4-5 years

because the Dow did not represent well the market and investors should have bought IBM.

LOL!

The

Dow started in 1896

, it exists for real, it's unbelievable to find someone who writes that an investor should have bought a bit of IBM, in order to justify his ridicolous ideas.

Yeah with the benefit of hindsight I would have bought more Amazon in 2009 to quadruple the returns of my S&P500 portfolio.

3) Even pretending for a while that the Dow did not represent well Wall Street, we could use the S&P500 (reconstrucred data, the

S&P500 started only in 1957)

.

But from 1929, even the S&P500 took to recover

16 years (until 1945)

- dividend included and counting inflation (real return).

And by no means it recovered after 4-5 years.
Hulbert didn't write "1934 "as you did. He wrote:
So it wasn't that the market recovered in 4-5 years (as you wrote), it recovered in 7 years (by late 1936). The 4-5 years was from
the bottom
in 1932.
And if you look at the Dow Jones return site you linked and plug in the dates Mr. Hulbert provided (can't do exact dates which could account for the slight discrepancy) using Aug 1929 - Nov 1936 shows an annualized DJIA return (with dividends reinvested) of just -1.651%. See image from the site you provided: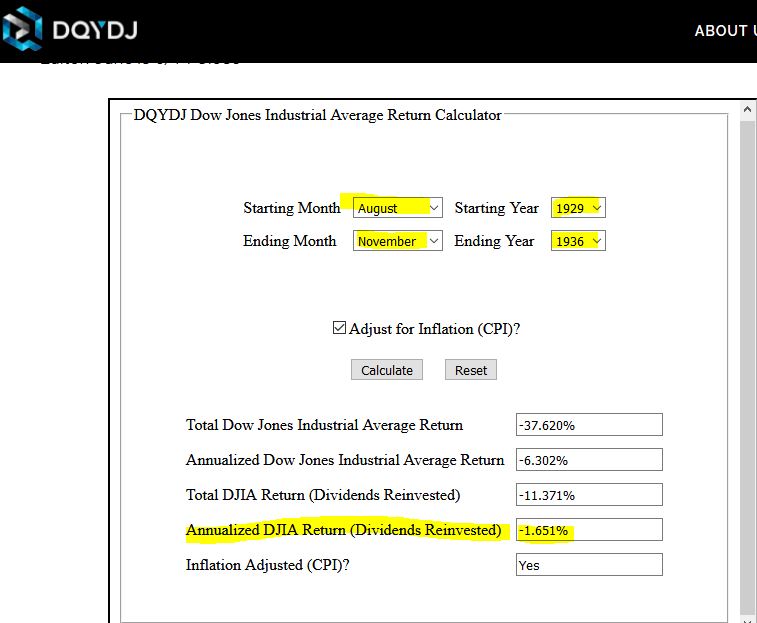 Not bad for 7 years considering the Dow lost 79%% between Aug 1929 - May 1932. The recovery was in fact by Nov 1936: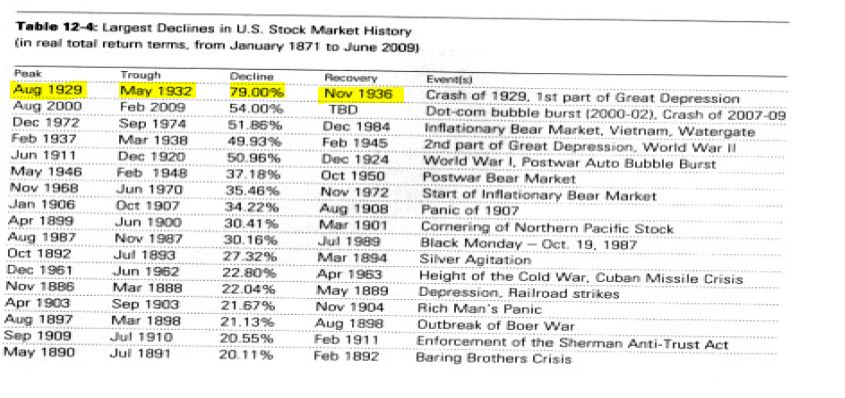 Did the Dow drop again? Yes. We're not talking about that. There was a lengthy excellent post by nisiprius that discussed how there were two very bad recessions so the entire period including both recessions was brutal. And the second chart I provided in fact shows the second recession from Feb 1937- March 1938 in which the Dow fell by another 49.93% and did not recover until Feb 1945. (see image below). And this second recession (and more longer lasting obviously since the recovery was another 8 years makes the entire period bleak because the second fall in 1937 came shortly after the recovery in Nov 1936. But it's important to understand it wasn't one long period. It was two brutal recessions that were back to back and that's why the second recovery was in 1945. But the first recovery from 1929 was in fact in Nov 1936: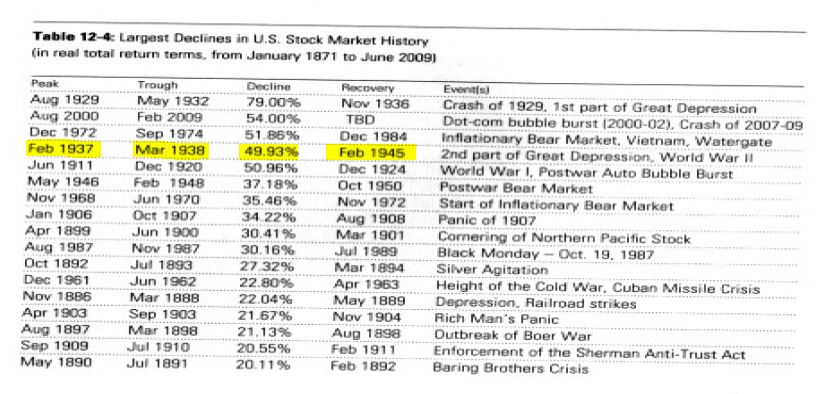 Beware of what
you
take for the truth. It's the full truth, not half-truths, that matter.