There have been many posts related to this topic, but I wanted to start a thread to show actual results for various Vanguard bond funds.
In this first post is a chart of initial SEC yields and subsequent 5yr and 10yr returns for Vanguard
California Intermediate-Term Tax-Exempt
bond fund (one of the funds I own). I used investor shares (
VCAIX
) because there is more history for it than for admiral shares. Returns for 2005-2014 are from Vanguard, returns prior to that are based on adjusted-close prices from Yahoo Finance, which are not perfect but are pretty close (most returns I checked against Vanguard for 2005-2014 are within a couple of basis points).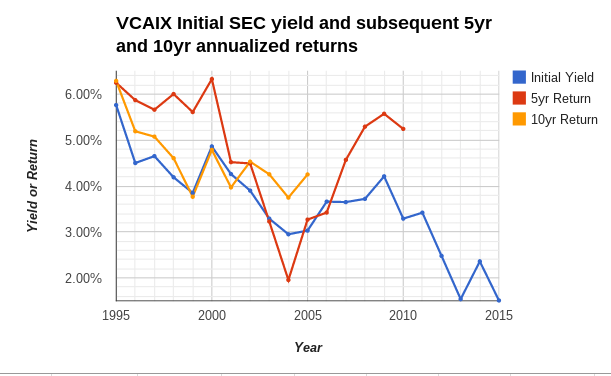 Anyone want to make any observations?
Kevin