[If you are a Boglehead who gets bothered reading about prosperous people trying to become more prosperous by means of tax maneuvers, this thread is not for you.]
Disclaimer: "Cheryl" is not a real person but a composite intended to tease out general rules relevant to an entire group of similarly situated BH, hence the (initial)
placement of this thread on the Theory board
. For the record, all the characters in the dialogue below are fictional and any resemblance to persons living or dead is purely coincidental.
Background
IRMAA is a special penalty levied on moderately prosperous retirees. It is nothing the rich need worry about; once your retirement income gets up to $500,000 or so, the burden shrinks to become de minimis. The IRMAA danger zone is centered around 2023 income of $100-150,000 for singles or $200-300,000 for couples. That's where it pinches.
Like I said, a penalty on prosperity.
The Social Security tax torpedo is aimed at the not quite so prosperous. The danger zone here is for retirees whose income would otherwise put them in the bottom half of the 22% bracket, i.e., an AGI of $50-80,000 for singles or $100-150,000 for couples. In this zone, retirees with ample social security income pay double tax on their other income (if you will allow me to round 1.85 up to 2.0).
Now to the audience for this thread: you are a retiree on Medicare and haven't started Social Security yet. Looking ahead, you expect that a good portion of your income will come from voluntary withdrawals or Required Minimum Distributions from your Tax Deferred Account (tIRA, 401(k), 403(b), 457, or other qualified plan).
Net of Social Security, any pension, plus retirement plan distributions, you expect to enjoy a prosperous retirement. You can see IRMAA looming like an iceberg and the SS Tax Torpedo heading straight at you.
What can be done?
Type case
Meet Cheryl, never married and a practical gal with a long history of managing her personal finances to good effect. She looks forward to a Social Security payment near the maximum and has well over $1 million accumulated in her TDA. In keeping with her long history of thrift, she's postponing SS until age 70, which she will reach in mid-2024.
Here in early 2023, not quite age 69, she perceives that she still has a good bit of flexibility for tax and income planning.
She did a Roth conversion last year up to just shy of the first IRMAA threshold; but it does not look to be enough, based on the five-year projection she made through 2027 (see below). IRMAA still threatens, and she will be high up in the torpedo range even if she manages to dodge IRMAA.
Tapping her pencil, she figures that her flexibility drains away in 2025, the first full year of Social Security, when the torpedo powers up. 2023 offers the most flexibility, but 2024 still offers some, since she'll easily pass out the other side of the tax torpedo when there is only half a year of SS payments. By 2027, with SS and RMDs, every incremental dollar of income will potentially be taxed at a super-high rate, relative to what she is accustomed to paying.
We join her now at a holiday dinner with family.
Dinner with the family
Cheryl, tongue loosened with wine, shares her dilemma. "Why do I have to pay all that tax! I'm one of the little people."
Her sister-in-law tells her to chill. "When RMDs kick in, you'll be receiving tens of thousands of dollars in income above what you need to live. What do you care if a couple thousand dollars of that surplus goes to taxes? Someone has to pay for the soldiers who defend the homeland."
Her sister Fran tries to reassure: "Aren't you going to have to make voluntary withdrawals to cover living expenses this year and next until you have a full year of social security—won't those cut down your TDA balance enough at least to escape IRMAA?"
Her brother Charles swirls his Scotch and shrugs. "That might get you out of IRMAA the first year, but your RMD income is going to go up and up over the first decade or two. You'll be back into the IRMAA zone in a jiffy. I recommend you heavy up on income for the next two years. Drive your IRA withdrawals up near the top of the IRMAA range and put the surplus back into savings. Two years of multiple IRMAA is a small price to pay for avoiding any IRMAA at all for decades afterwards."
Her nephew Peter, the CPA, tugged his chin. "I dunno Dad, I would have to see a present value analysis before ratifying that advice. Eight IRMAA payments over two years now, might be the PV equivalent of twelve to fifteen IRMMA payments later, and who knows what the tax law looks like twenty years down the road, when you'd just be breaking even?"
Turning to Cheryl, he said "You know about QCDs, right? If you find yourself $2000 over the IRMAA threshold, whatever, make a QCD of $2001 that year. It will almost pay for itself."
Cheryl objected: "I won't be eligible for QCDs until 2025 and they won't do me any good before RMDs begin, it seems." Her nephew shook his head: "once you are eligible at 70.5, QCDs reduce your TDA balance, which lowers your future RMD, which may keep you below the IRMAA threshold."
Cheryl snorted. "Every $1000 I remove from my TDA reduces the first RMD by $37.74. At that rate I'm not charitable enough for QCDs to make a big enough dent."
•
By extension, to reduce the RMD at age 73 by $1000 requires that her TDA balance somehow be made smaller by $26,500.
Cousin Celia interjects: "I don't understand why you kept last year's Roth conversion below the first IRMAA boundary? A dollar in Roth is worth more than a dollar in the TDA. Convert half your IRA balance this year if need be, and the rest next year. No more RMDs. IRMAA problem solved! Tax torpedo slinks away!
Cheryl's brother nodded, "Sure, okay, but you don't have to go full bore and convert everything, just put the heavy-up income I recommended into a Roth rather than savings. Same principle: pay now, save later."
But her nephew was vigorously shaking his head. "Whoa Celia-- Cheryl can drive up through IRMAA #4 and still remain in the 24% bracket. But if she's got to convert her entire $1 million+ TDA over two years, that's going to drive her into the 32%, 35% or even 37% bracket in income tax alone, not counting IRMAA penalties. I don't see how that strategy pencils out when her future RMDs were only going to put her into the 22% bracket."
Uncle Curmudgeon stirs. "She's not going to be in the 22% bracket. I make it to be the 40.7% bracket given the social security tax torpedo, 22% * 1.85. Paying income tax of 32% now to save 40.7% later doesn't sound so bad, and I'm warming to Celia's point of view. And if you believe as I do that the TCJA will expire as scheduled after 2025, then she'll be saving 46.25%."
Her CPA nephew grew agitated. "I've never liked that formulation. The so-called torpedo is just a recapture of an earlier tax break, the total exemption from tax of the smaller social security payout that most people receive. If you look at the cumulative tax paid, even way up in the torpedo Cheryl is still paying less if than if she had received the same dollars in some form other than Social Security."
Everyone flinched as Curmudgeon slammed his hand on the table. "Wrong! Gotta use the marginal tax rate. If Cheryl makes a QCD of $1000 once RMDs begin, there in the torpedo, it will save her $407 in income tax. That's real money, and real different from $220."
After an uncomfortable silence Cheryl's niece Janice, on break from law school, sniffs: "You told me over and over that you'll probably end up leaving a substantial inheritance. Let me suggest that the best strategy is the one that maximizes your after-tax bequest to heirs. FWIW, I will move to California when I graduate from law school, and by the time you pass away, hopefully decades hence, I expect to be in the 48% marginal tax bracket, Federal and State combined."
Celia: "Gotta be Roth conversions"
Curmudgeon: "Oww…"
Nephew: "I know some good CPAs in Los Angeles."
Her sister-in-law stood up. "Got to get started on those dishes …" Whereupon, the dinner concluded.
Leaving Cheryl with no answer to her question: What should she do, in 2023 and maybe 2024, to lower her future tax burden once RMDs kick in during 2027 and beyond?
Here are the details of Cheryl's projected income and TDA balances if no action is taken.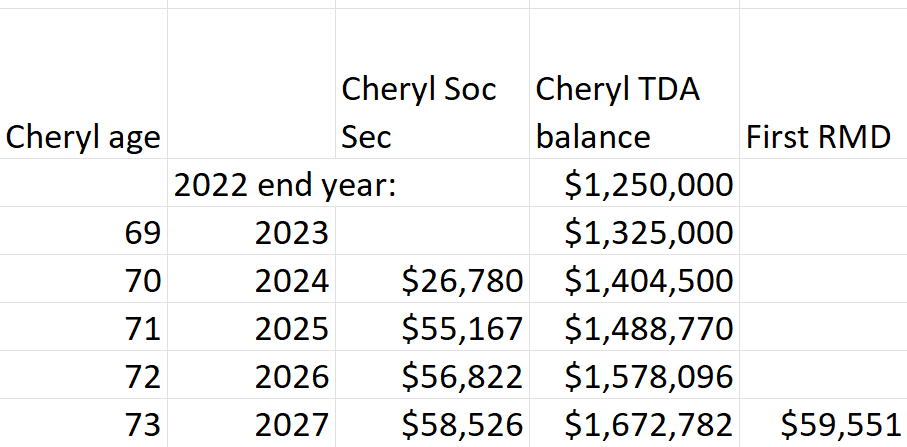 Notes
:
A 6% return was assumed, corresponding to what one would expect from a 30/70 stock/bond blend like the Vanguard Target Retirement Income fund, given inflation of 3%.
The TDA balances shown are before any deduction for living expense or Roth conversions in 2023 or 2024, but do reflect her earlier conversion(s). Cheryl estimates that annual living expenses could be covered with a $60,000 taxable withdrawal, putting her near the top of the 12% tax bracket, where she had been before last year's Roth conversion.
And here is her projected 2027 tax situation, showing which income falls into which bracket, the operation of the tax torpedo, and the impact of IRMAA.

Notes
If she had exactly $9,295 in other income this would make $8,374 of SS taxable, giving her total income equal to the standard deduction, and a tax bill of zero. Next rows take her through the 10% and 12% brackets. With an RMD of $57, 968 she exits the SS tax torpedo: from here out, only 85% of SS will be taxable, and her marginal rate returns to being her income tax rate (22%).
For a span of about $1400, that is, after which she hits the first IRMAA. That small gap motivated the title of the thread. The first IRMAA dollar amount is typically about 4% of the dollar span until the next IRMMA, after which it becomes 5% through IRMAA #4, after which it drops to a much smaller percent, becoming vanishingly small as a proportion as income climbs above $500,000.
For reference, here are projected tax brackets and IRMAA boundaries through 2027, assuming inflation at 3%.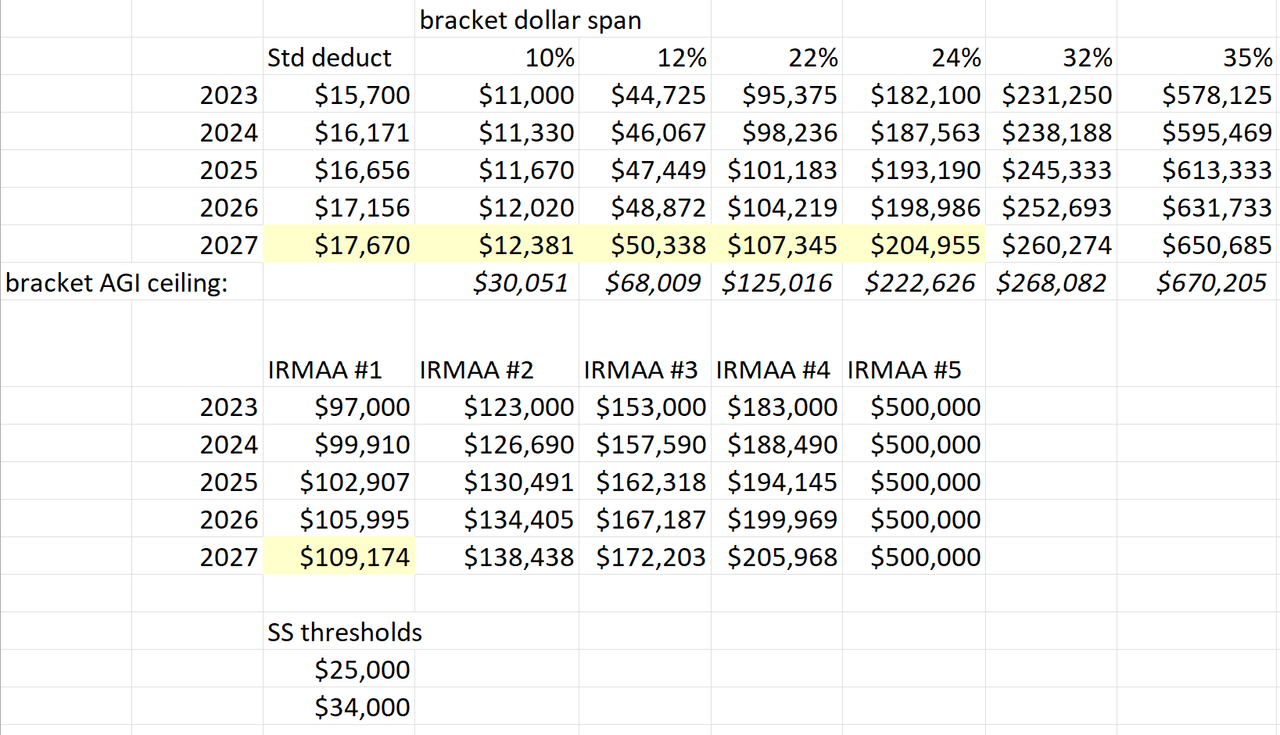 What do you recommend Cheryl do?
1. Let QCDs handle any mild trespass into IRMAA territory?
2. Large Roth conversions, maybe all the TDA balance, during her remaining two years of flexibility?
3. Smaller Roth conversions up to just short of IRMAA #1, to at least chip away at the problem?
4. Pay whatever taxes are owed, later, and get on with her life, now?
5. Factor her heirs (nephew and niece) into the decision? (Family history suggests a life expectancy of twenty-five or more years from today's date)