atdharris

wrote:

↑

Thu Sep 24, 2020 1:42 pm

sapphire96

wrote:

↑

Thu Sep 24, 2020 1:33 pm

Wow, how low can it go? Mediocre environment for savers.

What's worse is that we can expect this environment for at least a couple of years as the Fed plans to keep its interest rates at 0% for that time.

What does not make sense is that I remember Ally offering almost 1% on their savings account when the Fed interest rates are at zero before they were raising rates a few years ago. Do I dare ask why is it different this time?

Perhaps they are wanting to be more conservative during this economic downturn? I believe it dropped to 0.75% during the GFC and start moving up as the Fed began raising rates. So that pretty much means we're going to be at 0.6% or lower until 2023. Maybe we really do have no choice but to invest in equities.
According to DepositAccounts, the lowest Ally online savings APY dropped in the years following the GFC, when the federal funds rate was 0-0.25%, was 0.84%.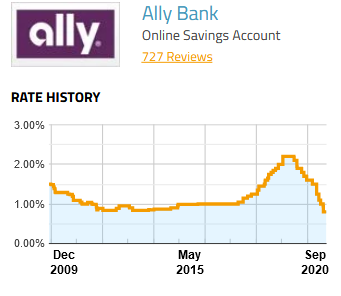 So yeah, things are different this time.
Kevin