Michael Kitces had an interesting
post
back in July about various aspects of the FIRE strategy. He begins with describing how the FIRE idea came about and then states that the '4% rule', which was originally intended to apply to 30 year retirements, should be more like 3.5% for early retirees. Interestingly, I did not know that Bengen himself authored in article back in 1996 that stated this as well.
Kitces notes that it is seemingly very difficult for most early retirees to be 'idle' for lengthy periods of time, given that their health and energy are usually still very good, which results in them earning some kind of income after declaring themselves 'FIREd' and that even relatively small incomes can greatly reduce their needed portfolio size.
He states that 3.5% withdrawals have historically been so incredibly conservative over nearly all long-term periods that retirees should strongly consider adopting flexible withdrawal rules so that they can take advantage of this upside potential. The graph below demonstrates how much upside potential there has been with 3.5% withdrawals. This is for a 60/40 AA, while the far right two columns are for an 80/20 AA; note that these numbers are not adjusted for inflation. For the 80/20 AA, 3.5% withdrawals would have left retirees with more than 14 times than original nominal portfolio balance after 45 years of withdrawals.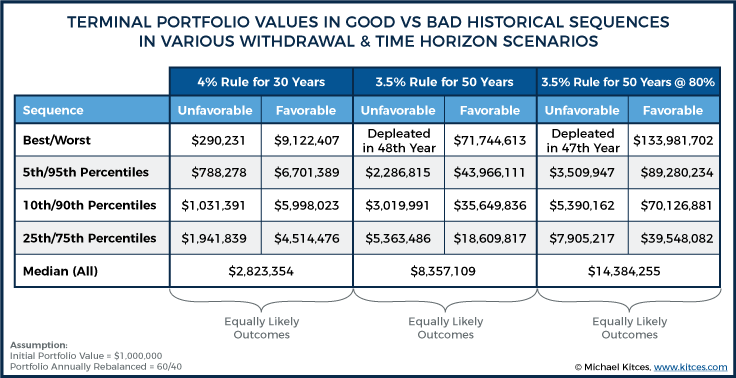 Kitces goes on to discuss several flexible withdrawal strategies. The first is his 'ratcheting rule', where retirees increase their spending by 10% any time the portfolio grows to 150% of its original value. I personally find this strategy to be very inefficient.
The second strategy he discusses is to withdraw every year the greater of 3.5% the portfolio's current balance or last year's withdrawal plus the inflation adjustment (i.e. 'resetting' the withdrawals). This seems much better than the ratcheting rule to me, although as Kitces notes, the decreasing life expectancy of the retiree means that 3.5% may become too low.
Kitces goes on to discuss the Guyton-Klinger 'guardrail' approach, which has been discussed extensively here in other threads.
Lastly, he discusses a strategy very similar to one that I've proposed before: segment one's spending such that essential spending is covered with something like his ratcheting rule from a portion of one's portfolio and that a more dynamic withdrawal method is used with the remainder of the portfolio.
I'm interested to hear others' thoughts on all of this.