There has recently been an active thread about generators, and the topic of backup battery systems came up. I mentioned that I had a lot of information about that topic, and some expressed interest in the topic, so that's why I'm starting this thread.
Literal volumes have been written about the operation of lead acid batteries alone. This is meant to be an overview of the topic from the perspective of a homeowner looking to construct a simple but reliable battery system capable of helping them cope with a loss of grid power. It is not intended for those who are regularly relying on their batteries, such as those living off-grid, though many of the same principles apply there as well.
What Type of Battery to Use
Those who live off-grid and are using through their batteries every day might be better off financially in the long-run with lithium-ion or other types of batteries, but for those who are only occasionally cycling their batteries, lead acid batteries are still clearly the best choice. While there are other types of lead acid batteries, the four that are most appropriate for backup battery systems are deep-cycle batteries, marine batteries, golf cart batteries, and absorbed glass mat batteries. The first three of these are all types of flooded lead acid batteries.
When it comes to lead acid batteries, there are some big trade-offs that must be made in their construction and operation. When a lead acid battery of any type is at any time less than fully charged, lead sulfate crystals start to form on the lead plates inside, and this process can never be completely reversed. Depending on how depleted the battery is and for how long, these lead sulfate crystals can usually be largely removed by simply recharging the battery. 'Advanced' recharging techniques can also go a long way toward removing these lead sulfate crystals, but their damage can never be entirely undone, and the battery will eventually lose its ability to hold a good charge. The battery should be replaced with a new battery well before this point, and the lead plates in the old battery will be recycled to make new batteries. If the battery is maintained properly, it should last at least five years and may last ten years or even more.
If you want to get a lot of power out of a battery very quickly (i.e. seconds), such as for starting the internal combustion engine in a vehicle, then the battery must be constructed with many thin plates of lead that resemble a sponge in order to provide a lot of surface area that's exposed to the acid inside. This is referred to as a starting battery. However, lead sulfate crystals will quickly develop if the battery isn't recharged very soon. A typical vehicle battery can only be fully cycled (i.e. taken down from 100% to 0% and then recharged back up to 100%) about ten times or so before it's effectively worthless. In the normal operation of vehicles, only a very small proportion of the battery's capacity is used for a few seconds to start the vehicle, and the vehicle's alternator fully recharges the battery in short order, so this trade-off isn't a big problem in that context. But for battery backup systems, this is a big problem, as noted in the next paragraph, and starting batteries should never be used outside of an emergency.
If you want to get a little power out of a battery over a longer period of time (i.e. hours or days), as needed in a backup battery system, then the battery should have relatively few plates of lead, and the plates are much thicker than in a starting battery. This is referred to as a deep-cycle battery. Lead sulfate crystals will still form on the lead acid plates and eventually damage them, but this process is much slower. A deep-cycle battery can be fully cycled about 200 times, far more than a starting battery can. Deep-cycle batteries are available at many fewer places than are starting batteries, but most RV parts stores and solar equipment dealers sell them.
Marine batteries offer a compromise between starting batteries and deep-cycle batteries. Their plates are thicker than those of starting batteries but thinner than those of a deep-cycle battery. These batteries are designed to be able to start boat motors and then to provide a much smaller amount of power to an electric trolling motor. These can be fully cycled roughly 100 times. These are acceptable for battery backup systems.
Golf-cart batteries, at least those made by reputable manufacturers like Trojan, are also deep-cycle batteries, but they are nearly always referred to as being distinct because they are designed for, you guessed it, golf carts. They are designed to be very durable, which is definitely needed when half-drunks are driving golf carts around like lunatics over rough terrain with lots of sudden starts and stops. They even have extra space inside the battery under the lead plates for lead sulfate crystals to drop down into and accumulate without shorting out the battery. Golf cart batteries are usually 6 volt batteries, so two of them must be connected to each other in series to effectively create a single 12 volt battery. Note that some golf cart batteries are 8 volts (not really usable in this context), and some are 12 volts and can be used as is without any connection to other batteries. Also, golf cart batteries are quite heavy. One of the most popular models is the Trojan T105, and it weighs 62 lbs. That said, golf cart batteries are ideal for battery backup systems that do not need to be mobile. They are available at golf cart dealers, warehouse centers like Costco and Sam's Club, and some other big box stores.
Absorbed glass mat (AGM) batteries are the safest lead acid battery because the sulfuric acid inside has been absorbed into glass mats. There are starting AGM batteries and deep-cycle AGM batteries. Deep-cycle AGM batteries can be purchased but are very uncommon. While they do last somewhat longer than flooded lead acid batteries, the cost of AGM batteries is roughly double, so they are financially less viable. About the only reason that someone should use an AGM battery for a battery backup system is if they are concerned that someone like a small child might try playing with them, open the top, and spill sulfuric acid on themselves, though I've never heard of this ever happening. The weight of lead acid batteries generally makes moving them very difficult for small children.
How How Much Power a Battery can Provide and Battery Lifespan
When it comes to lead acid batteries, there is a strong link between how much power can be used and how long the batteries will last. To understand this, you need to understand some basic electrical terminology; please note that these are not precise, technical definitions. Electrical power is somewhat analogous to plumbing.
Voltage
refers to electric pressure, similar to water pressure.
Amperage
(AKA amps) refers to the volume of electricity, similar to volume of water flow.
Watts
are a unit of electrical power and a measure of electrical consumption. Watts are equal to volts multiplied by amps (W = V x A).
The voltage of most battery backup systems (and that used by most non-hybrid or electric vehicles) in the U.S. is 12 volts, while the power used by most items is 120 volts, though large electrical appliances usually use 240 volts (e.g. stove/oven, water heaters, clothes dryers, furnaces, central air conditioning units, well pumps). A watt hour refers to using one watt for one hour. So if you use 100 watts for two hours, you have used 200 watt hours of power. (Incidentally, the power you buy from the grid is sold in 1,000 watt hour (AKA kilowatt hour or kWh) increments.) Note that batteries' capacity is always provided in terms of amp hours (AH), so to determine the watt hours of the battery, simply multiple the amp hours by the battery's voltage.
A group 27 marine battery typically has around 90 amp hours of power. That's a 12 volt battery, so that works out to 1,080 watt hours of capacity. A pair (remember that they have to be used in pairs in a 12 volt system) of golf cart batteries will typically have about 150 amp hours of power, which is 1,800 watt hours of capacity.
However, there are some important caveats. First, as you increase the power you draw from a lead acid battery, you reduce its available capacity. If you draw 12 watts from a 12 volt battery, which is 1 amp (12 watts / 12 volts = 1 amp) of current, you will actually get more power out of the battery than it is rated for. If you draw 1200 watts from a 12 volt battery, or 100 amps (1200 watts / 12 volts = 100 amps), you'll only get about 60% of the battery's rated capacity. This is referred to as Peukert's law, and online calculators exist to help you determine the exact amount of the reduction in capacity.
Second, the more deeply you discharge a lead acid battery, the more you permanently reduce its lifespan. As I noted earlier, a deep cycle battery that is fully (100%) cycled will be effectively dead after about 200 such cycles. But if you reduce the depth of the cycle, such as only taking the battery down to a 50% charge (usually referred to as state of charge or abbreviated as SOC; sometimes the inverse is used and referred to as the depth of discharge or abbreviated as DOD), it will last for closer to 500 cycles. The graph below illustrates this relationship.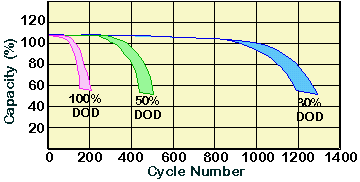 This means that you don't want to draw a lead acid battery's capacity too far if you can avoid it in order to maximize the battery's cycle lifespan. That said, in an emergency situation, by all means use the power in a battery if you need it. It's more important that you have the power you need when you really need it than to try to get more cycles out of the battery.
Now that you understand this, you can start to better understand the answer to the question that everyone always asks when this topic comes up: how long will the battery last? It depends (mostly) on (1) the capacity of your battery, (2) the amount of power you draw from the battery, and (3) how long you draw that power from the battery. If you have a 90 amp hour battery (1,080 watt hour capacity = 90 amp hours x 12 volts) and draw 20 watts from it continuously, the battery will last for 54 hours. If you try to draw 500 watts from that same battery, it won't even last two hours, due to Peukert's law. This is why battery systems in general are best used for either small amounts of power for long periods of time or large amounts of power for very short periods of time. Large amounts of power for large amounts of time are not appropriate for battery systems; that's when generators and such are needed (more on that below).
If you need more power than what a single battery can provide, you can connect multiple batteries that are identical to each other in every way to expand the size of your system and create a battery bank. This is better for the batteries because they are all charged and discharged at a slower pace, which is generally best anyway, and it's simpler for you. It's important for the batteries being connected this way to be
identical
(i.e. same manufacturer, same type, same age, etc.); otherwise, the whole system will be brought down by the weaker batteries, and the other batteries could be damaged. If you already have a battery (or multiple) and want to expand the size of your system at a later date, you will not be able to connect the new batteries to the old ones, and you'll need a separate charger for the new batteries.
How to Get Power from a Battery
There are basically two ways to get power from a battery: direct current (DC) power directly from the battery or alternating current (AC) power via an inverter connected to the battery. I'll start with DC power, which will be 12 volts. Anything that plugs into a 12 volt power socket in a vehicle can be run from a 12 volt battery system. To do this, you need a 12 volt adapter plug socket, which clamps directly on to the terminals of your battery, like the one shown below.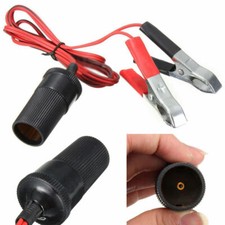 That only gives you one socket though, so it's usually a very good idea to plug a 12 volt socket splitter into your adapter; these are widely available and generally give you three or four sockets to plug into, and many also provide USB outlets. One of these is shown below. Be aware that with a single adapter plug socket, you can only draw about 150 watts of power. The power cords generally have a maximum rating of 15 amps, which is 180 watts in a 12 volt system. If you need to draw more than that, you'll need to use multiple adapters (like the one shown above).
It's also a
very
good idea to get a voltmeter that can be plugged into one of the sockets of the splitter in order to allow you to visually check on the status of your battery. This will give you a rough idea of how charged your battery is.
To get 120 volt AC power, like the standard outlets in your house normally provide, from a battery, you need to use an inverter. An inverter will take 12 volt DC power and invert it to 120 volt AC power. These will either have a 12 volt plug or connect to your battery with clamps or terminal lugs, which look like washers connected to a cable, that are connected very tightly to your battery's terminals with washers and wingnuts. The smallest inverters, which only have a 12 volt plug, will only output about 150 watts since that's about the most that can be drawn from a 12 volt plug. Inverters of very large size can be purchased, but it's vital to keep in mind that inverters do not magically multiply your battery's capacity. A 2,000 watt inverter being used at full capacity will completely drain a 90 amp hour battery in about 20 minutes. Running very large appliances that use 240 volt AC power, like electric furnaces and water heaters, is not realistically feasible with the type of battery system discussed in this thread.
Disclaimer: This post is provided only for information purposes. I do not warrant any of the information contained herein. You accept any and all risks from engaging in any activity discussed in this post.