We moved into a house that apparently has a wired doorbell chime somewhere. When I use a voltage tester near the doorbell, it sees low voltage power running. However when I press the bell button, nothing rings (there bell does work, just the come doesn't ring).
I checked the usual suspects (garage, pantry, etc) but can't find the chime anywhere in the house. The closest thing I could find was this little box next to the main power junction (red arrows in image). It's hard to find where this terminates as I can see the wire holder going into the wall (blue circle in image below). Could this box really have the chime inside it?
I'm trying to replace the doorbell with a better wired doorbell that can take video (I don't want to pay for cloud storage service with Ring or Nest), so need to locate the chime.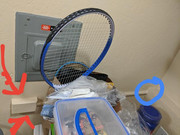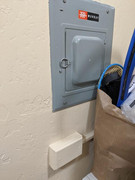 Any ideas on whether this box could be housing a chime, or some way to locate it?