The Fed reduced interest about as low as it can go in 2008, and nothing much seems to have happened since: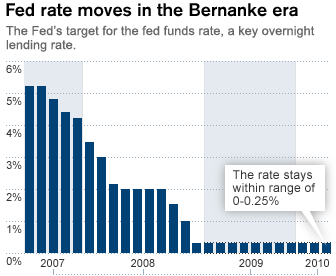 So why did bank interest rates continue to decline steadily all last year? (ING Direct from 1.4% to 1.3% to 1.25% over about the last six months; my spiffy new Reward Checking account from 4.51% to 3.51% last Spring, then 3.01% and now 2.76%)? Money market rates, from 0.6% and 0.7% to zero?
Is it, basically, a strong-arm move--because they can? For the same reason that interest rates are declining yet our credit card interest rates have increased?