Bengen, in his 1994 paper, found that a balanced portfolio of stocks and bonds could support a withdrawal rate of 4%, adjusted each year for inflation. By "support," he meant sustain those withdrawals for thirty years or more.
https://retailinvestor.org/pdf/Bengen1.pdf
That paper, along with the later Trinity study (
https://www.aaii.com/files/pdf/6794_ret ... inable.pdf
), launched the Sustainable Withdrawal Rate literature, followed by the Variable Withdrawal Rate literature (see the wiki, and countless threads here at BH; most recently, and still live, this one:
viewtopic.php?t=379159
).
It's not always recognized that Bengen only had 38 thirty-year rolls to work with (start dates 1926 – 1964 inclusive), nor that, for the bond portion, he used what today would be called a short Treasury, far from the Total Bond Index favored here at BH.org.
In any case, as we throw up our hands in horror here in mid-2022, I thought I'd try my hand at a little speculative fiction: Will 2021 be the start-year where the 4% rule goes down? Goal here is to construct a plausible scenario.
Assumptions
[you might want to glance at the spreadsheet image first]
1. Mr. Erstwhile takes a 4% withdrawal at the end of 2021, leaving $960,000 in the account at the start of 2022. Next withdrawal due at the end of 2022 and so forth.
2. Inflation at 8% in 2022, 6% in 2023, and then reverts to 3% (the US 90-year average).
3. Stocks suffer an ordinary severe bear market on the order of 1937-38, 1973-1974, and 2000-2002, aka go down not quite 50% in all: specifically, down 30% by the end of 2022, and down another 25% in 2023.
4. But the total bond index suffers a never-before-seen drawdown sequence: down 15% by the end of 2022 (getting there
), and down another 10% in 2023. After all, there had never been a 40-year bond bull market with sustained double-digit returns before, so … how bad might the aftermath be?
5. There's a bounce for both assets in 2024 and 2025, as shown in the spreadsheet below.
6. But also a hiccup in 2030, call it the Second Ukrainian war, and then again a bounce, see the spreadsheet.
7. In all other years, stocks and bond returns revert to the post-1900 World average rather than to US long-term averages. For stocks, 4.3% real + 3% inflation = 7.3% nominal; and for bonds, 1.5% real (total bond adjustment of -0.5%, historical data were based on long bonds) + 3% = 4.5% nominal. [Credit Suisse / Dimson et al. data]
#7 may be the crucial departure: I assumed depressed stock market returns relative to US history, to reflect all the discussion one hears about how the 2009-2021 bull market borrowed returns from the future. So, payback time. This speculative fiction still assumes a substantial real return on stocks, and still produces an equity premium on the order of +3%, but again, the stock series is much lower than the returns historically seen in the US. However, the bond series is not depressed relative to the 1926 – 1980 US experience.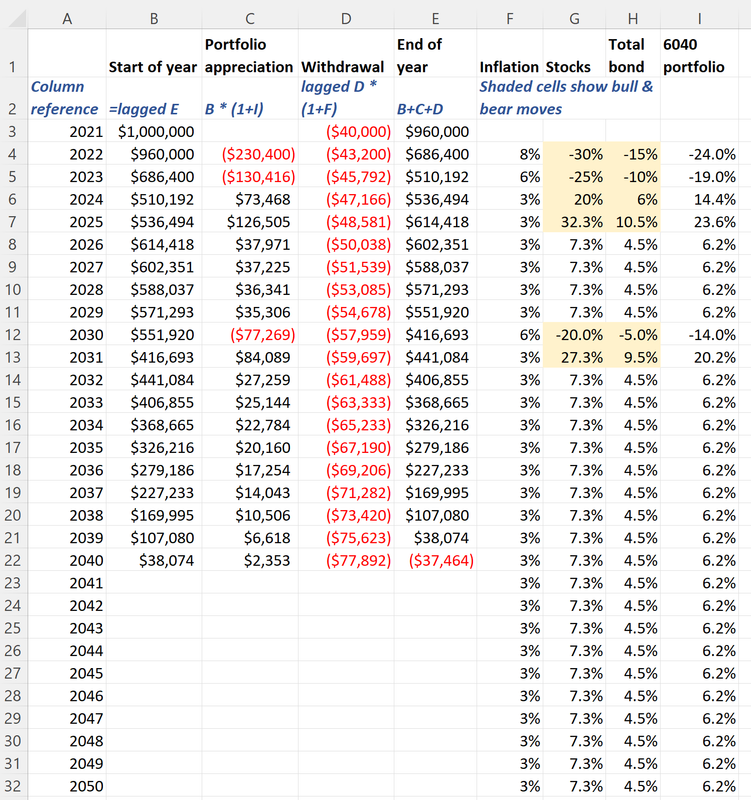 Results
Alas, Mr. Erstwhile succumbs to sequence-of returns risk and he runs out of money in the middle of 2040, after less than twenty years. Bye bye Bengen rule.
Plausible? I await your replies.
[You should be able to recreate the spreadsheet with a few keystrokes using Row #2 as a guide and run whatever alternative scenario you like.]
Homework: this thread by Nisiprius, aka "Bengen-retest-using-after-cost-mutual-funds-you-could-actually-have-bought." It didn't go so well.
https://www.bogleheads.org/wiki/User:Ni ... tual_funds
Or my paper, "Bengen taken overseas and back in time." Yikes.
https://papers.ssrn.com/sol3/papers.cfm ... id=4001986