This thread builds on an earlier one by Feh (
viewtopic.php?t=375988
). See especially the charts posted by vineviz in the middle of page two, and vineviz' own thread here:
viewtopic.php?t=376814
I take the analysis farther back in time across multiple types of bonds. The immediate stimulus was a query by Jason Zweig—you can see his take on the question here:
https://www.wsj.com/articles/its-the-wo ... 1651849380
2022 thus far
Returns for the first four months of 2022 have come as a shock to many bond holders. Using Vanguard Index ETFs as the measure, through April 29th, Long Treasuries (VGLT) had notched a negative total return of -18.09%, Long Corporate bonds (VCLT) had declined -19.86%, and even Intermediate Treasuries (VGIT) had declined -7.54%. Those are total returns, income included.
The Vanguard Total Bond Market Index ETF (BND, keyed to the AGG) was also sharply down, by 9.56%.
The magnitude of these declines raises a question: Is this the worst bond performance ever? I went on a search through several historical databases to find out.
Here is a preview of what I found:
-Will 2022 enter the record books as the worst bond market ever? Not quite; or maybe, not yet.
-Is 2022 high up on the leader board of most devastating bond market declines? Yes.
-Has it been an unprecedented decline—do 2022 and its cognates gap below the next worst outcome? No; 2022 and the like come in one or two points worse, last among equals if you will.
The remainder of this post puts 2022 in historical context to back up the points just made.
The discussion begins with post-1926 US data, then looks at US data back to 1793, and then examines UK data back to 1753.
Total bond index (1973 to 2008; BND thereafter)
Here are rolling 4-month returns on the total bond index since inception.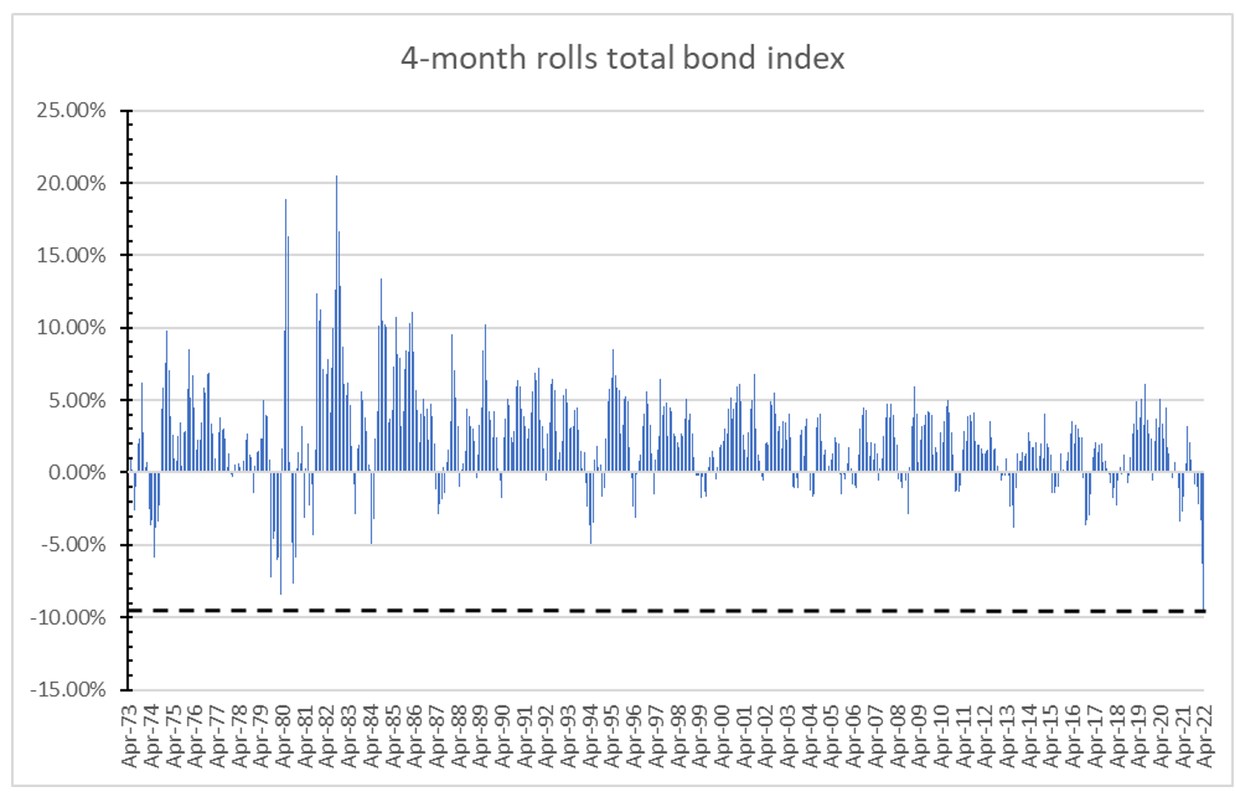 On this metric, 2022 notches a win: it is the worst ever, slightly exceeding what happened in early 1980.
But the aggregate bond index has only been in existence for about 50 years. Next section looks back a little further in time. 
Stocks, Bonds, Bills and Inflation yearbook
Monthly returns begin January 1926. I first look at rolling four month returns from April 1926 through December 2019 for long government bonds. Dashed line shows the Long Treasury return (VGLT) for the first four months of 2022.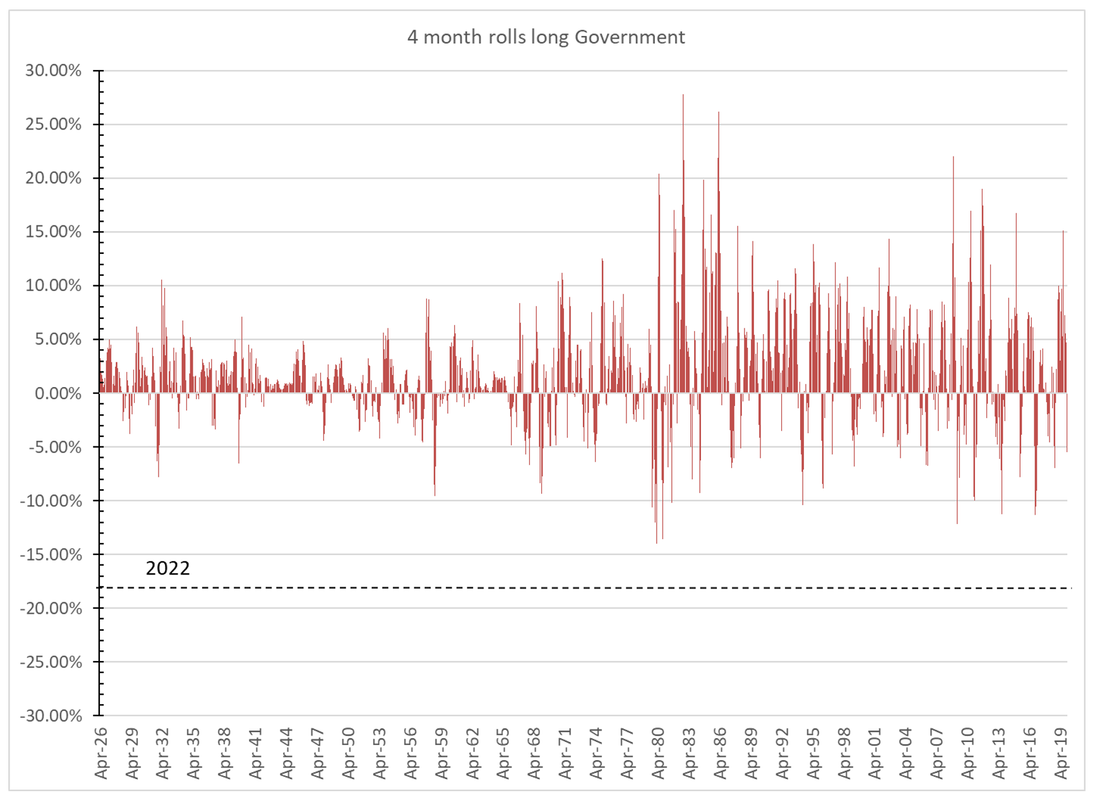 On this measure 2022 again takes the prize as worst ever. But four-month returns of about -10% have not been uncommon. And parts of 1980, near the depths of the great bond bear market that began in 1946, were almost as bad as the first four months of 2022.
However, long bonds are famously volatile. Next chart looks at Intermediate Treasuries from 1926.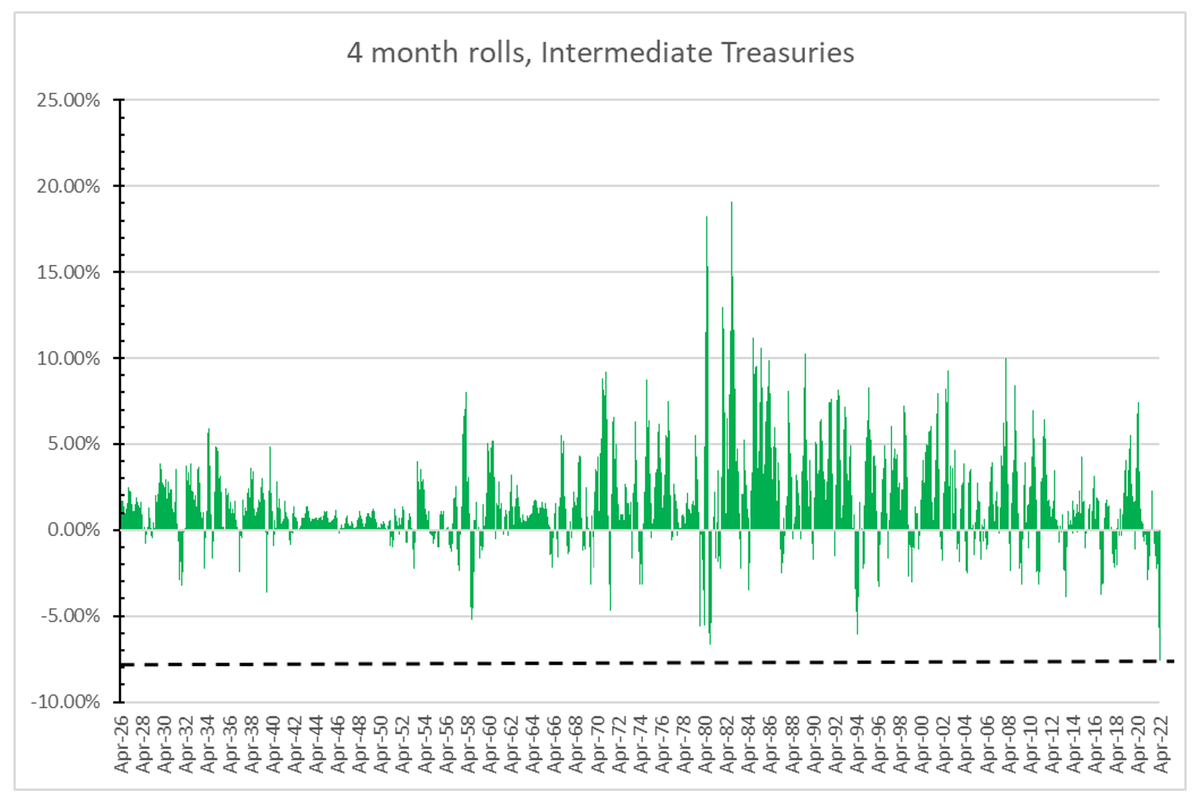 Same conclusion: the first four months of 2022 have been the worst ever. But early 1980 came close, and there are again a surprising number of occasions where the Intermediate Treasury lost 5% within a few months. 
Most of the older historical data is annual, so in preparation for a deeper dive into history, the next chart switches to rolling 12 month returns. Note that projecting the total return for the entire 12 months of 2022 is dicey at this early point. About 2 points of coupon income will be added over the next eight months, raising the current negative 18% return on VGLT to negative 16%, if there is no further price decline. And even the most modest rally at year end, to yields of 2.75% instead of 3%, would probably drive the 2022 loss to below 15%. Please keep that in mind when interpreting the 12-month data. And given these concerns, this chart adds a dotted line showing the realized 12-month return on VGLT from end of April 2021 to end of April 2022 (which was -12.19%).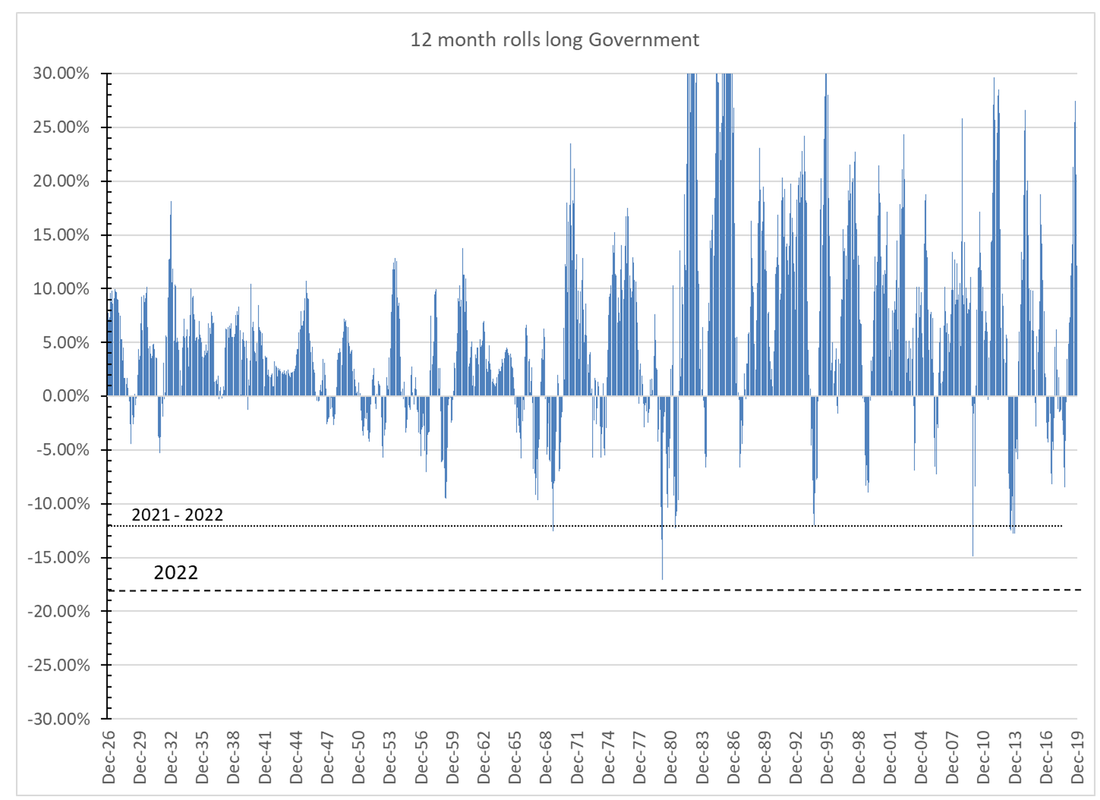 Relative to 12-month rolls, the first four months of 2022 again take the crown, exceeding the 12 months ending in March 1980. But if there is a modest year-end rally that takes the 12-month 2022 return above negative 15%, then 2022 will lose out to 1980 and to the twelve months ending in October 2008. (Oh—you didn't know that the safest bonds in the world can temporarily lose a lot of money during a great crisis? Fall 1931 was not a fun time either).
Turning to the realized returns for the twelve months from April 2021 to April 2022, these have several times been matched or exceeded. Negative total returns on long Treasuries, of about -12% over twelve months, are not rare.
On this metric, then, the past 12 months have been a really bad stretch, but not the worst ever.
The conclusion thus far: 1) On a four-month basis, the first trimester of 2022 looks to be the worst since at least 1926. 2) however, on a trailing 12-month basis, while April 2021-2022 has been pretty bad, history has seen worse, and more important, has several times recorded results about as bad.
The long run in the US, 1792 to 1973
[These data come from my paper "Stocks for the Long Run? Sometimes Yes. Sometimes No," which can be downloaded at
https://papers.ssrn.com/sol3/papers.cfm ... id=3805927
]. See also the thread on that paper started by SimpleGift:
viewtopic.php?t=352394
These are 12 month returns January to January. I do not have rolling 12 month returns, so the next chart probably does not capture the very worst case. It stops in 1973 because that marks the end of my data collection. Before 1857, the index contains mostly Federal and municipal bonds, after which corporate bonds are added; after 1897, it is only corporate bonds (the SBBI corporate bond measure has problems before about 1974, hence the fresh data collection through 1973.)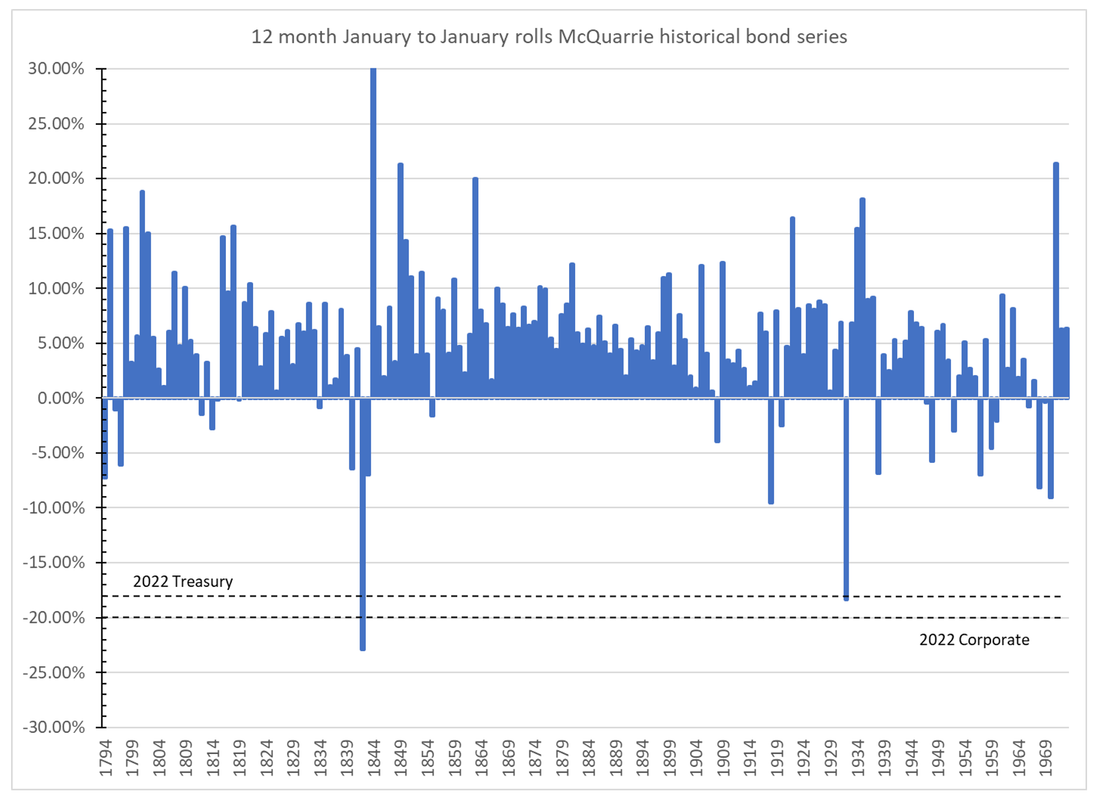 If we take a broader historical view, then 2022 is certainly on track to rank as among the very worst; but to take the title, it will have to get past 1842, at the depths of the Panic of 1837, after several states had defaulted, with a 12 month return of negative -22.88%; and for corporate bonds, it will have to get past 1931, when downgrades and defaults came thick and fast on what had been AAA rated railroads as the Depression plumbed the depths (for reference, trailing 12-month return on the VCLT has been -15.40%). 
The very long run: the United Kingdom back to 1753
These annual data keyed to December were shared with me by Bryan Taylor of Global Financial Data. Because only December to December returns are shown, this chart, like the preceding, may omit the very worst cases (but see below).
Before World War I, after which US Treasuries became the safest bond you could buy, British Consols played that role (although Dutch bonds were an alternative in the early 1700s). Here is a chart from 1753 to 1925, to link up with the SBBI Treasury chart.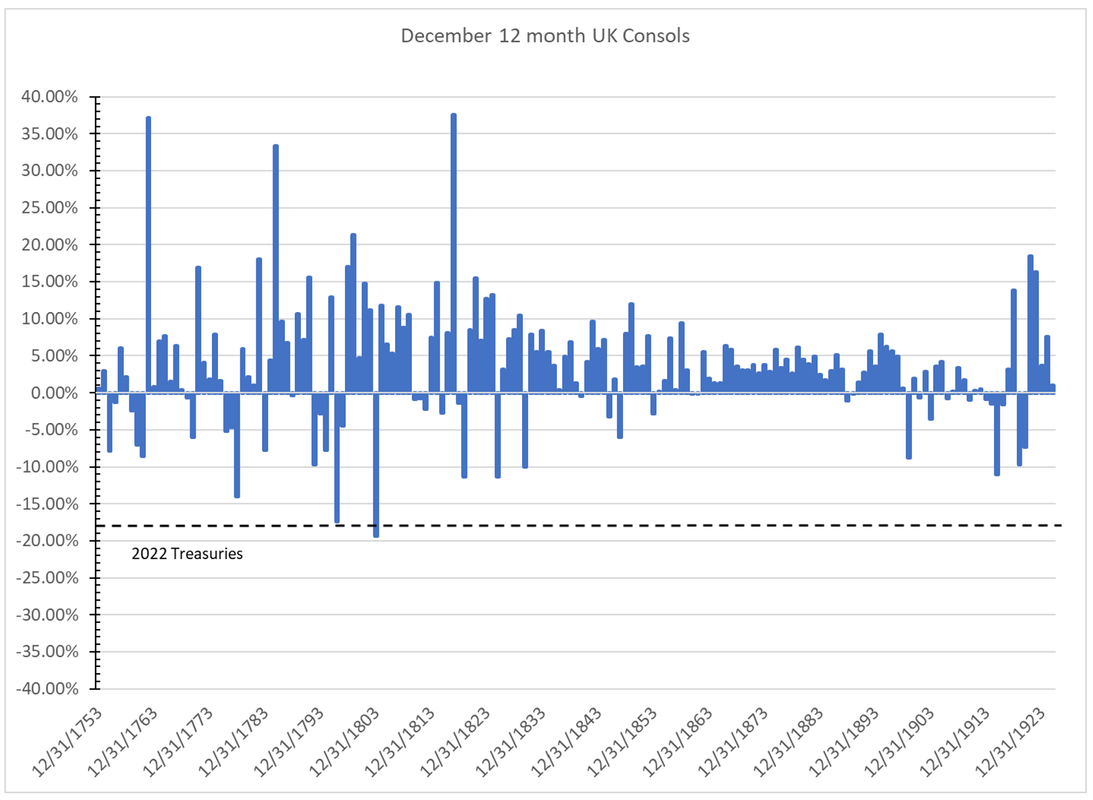 As before, 2022 is right up there with the worst Consol returns, but does not take the crown. Near the worst part of the Napoleonic wars, the 12-month Consol return was even worse than the 4-month 2022 Treasury return, about negative -20%. And as before, there are a surprising number of occasions where the safest bond you can buy still managed to lose 10% or more over a calendar year.
Finally, the Bank of England has a monthly series of Consol yields: millenium dataset,
https://www.bankofengland.co.uk/statist ... h-datasets
. As it is a perpetuity, price can be calculated by dividing the coupon of 3% by the stated yield. Here is a chart of 4-month rolling price changes from 1753 to 1823, which seems to be where the worst 12-month returns occurred.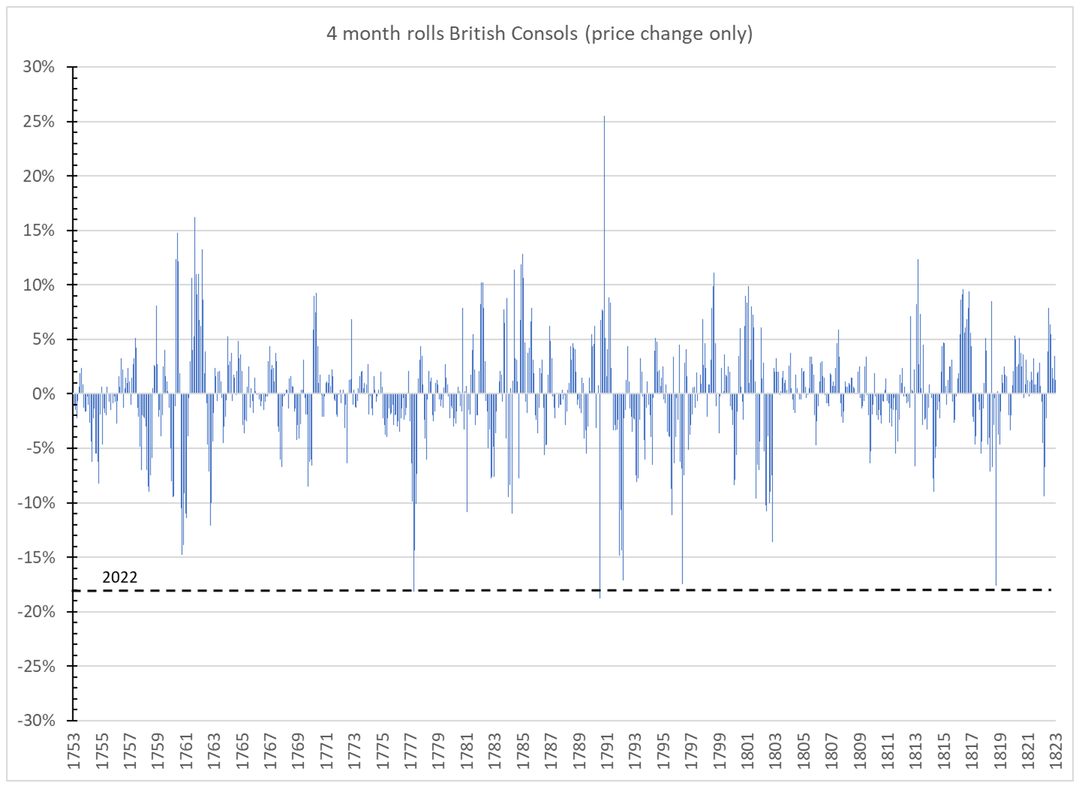 Here at last we find 4-month rolls just a little bit worse than 2022. The first four months of 2022 hold their own as among the worst ever, but do not quite take the prize. And this chart confirms that four-month declines of 15% or more, for a safe government bond, are far from unprecedented.
Spun another way: you have to go back two centuries to find a worse four month stretch than the beginning of 2022.
Summary
It seems clear from a broader view of history that annual returns, from the safest (long) bonds you can buy, of negative 20% or more, are not without precedent. And although 2022 is in the running to become the Worst. Bond. Market. Ever, it still has a ways to go before securing that title on an annual basis.
In short: what isn't cash can always be trashed.
[Caveat: the universe of interest is confined to "the safest bond you can buy." Weimar Germany saw much worse declines in government bond prices, but no one could have thought in the 1920s that German government bonds were the safest bond you could buy.]