While this topic has been discussed a few times here on Bogleheads, I have recently found it useful to look at the historical outcomes for three accumulation-to-withdrawal asset allocation strategies, fixed allocation, variants on age in bonds, and a target date fund approach (i.e. fixed allocation until a few years before the retirement date and then a decreasing glide path in stock allocation) and thought that others may also find the results useful.
In the following graph the real Final Portfolio Value (FPV) after 40 years of accumulation for fixed stock allocations of 100% and 70% are presented (70% is labelled as 'test'). The Shiller data set (
http://www.econ.yale.edu/~shiller/data.htm
) for monthly US stock and bond returns has been used and an inflation-linked contribution of 1 unit per year (split into 12 equal monthly instalments) has been made (rebalancing has been done on a monthly basis and zero costs have been assumed). This means that a total of 40 annual contribution units (acu) were made over the accumulation period. To put this into context, for an annual contribution of 10% of salary, an FPV=100 acu would be equivalent to a portfolio of 10 times salary leading to a SWR~40% of salary (assuming a 30 year retirement and an SWR~4% of initial portfolio).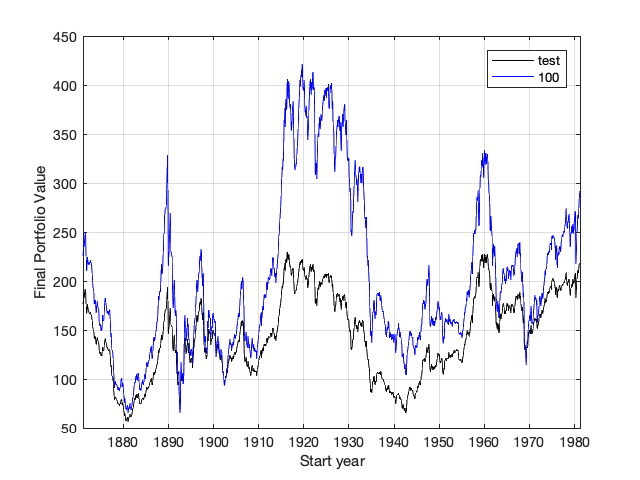 From the graph there are several things to note. Firstly that FPV was strongly dependent on the start year and hence outcomes depend on a large degree of luck and secondly using a fixed stock allocation of 70% almost always resulted in a lower FPV than for 100% stocks. The following table allows the outcomes of several fixed stock allocations to be compared.
Code: Select all
		% of cases FPV<x		FPV		% of cases where FPV(test)<FPV(100)	
Stock (%)	100	150	200		5th %tile		All	FPV<100
100		6.2	29	58		96		
90		7.9	39	65		91			98	87
80		12	47	74		84			98	89
70		18	56	89		77			99	89
60		23	68	100		69			99	93
The first column gives the fixed stock percentage, the next three columns the % of historical cases where the FPV is less than 100, 150, and 200 acu (lower numbers are better), the next column (i.e. the fifth) is the FPV (in acu) at the 5th percentile (higher numbers are better), the final two columns are the % of cases where the FPV for the given stock allocation is below the FPV for a stock allocation of 100% for all historical cases and those cases where FPV(stock=100) is less than 100 acu (lower numbers are better).
High stock allocations led to fewer cases of relatively low FPV, e.g. FPV<100 occurred about 6% of the time for a stock allocation of 100% and 23% of the time for a 60/40 portfolio. Compared to a stock allocation of 100%, using a lower stock allocation improved the FPV in less than 2% of cases, although where the FPV<100 this was a bit higher at 7–13% of cases.
Age in bonds variants
The outcomes for age in bonds variants (where stock %=C-age) is given in the following table (the age at the start of accumulation was assumed to be 25 and the % of stocks were capped at 100)
Code: Select all
	% of cases FPV<x		FPV		% of cases where FPV(test)<FPV(100)	
C	100	150	200		5th %tile	All	FPV<100
100	32	83	100		65		98	87
120	13	56	97		80		94	87
140	6.7	35	66		92		86	80
The first column gives the value of the constant C, while the other columns are the same as the first table.
The performance of the age in bond variants was broadly equivalent to that of a fixed allocation with the mean % of stocks (e.g. for C=100, the starting and final stock allocations were 75% and 35%, respectively, giving an average of 55% and the performance is a bit worse than for fixed stocks of 60%).
Target-age fund approach
Here the stock allocation was held at 100% for N years before linearly changing the allocation to 50% over the remaining years (e.g. where N=30, the stock allocation was held at 100% for the first 30 years, before being reduced by 5 percentage points per year in the final 10 years).
Code: Select all
		% of cases FPV<x	FPV		% of cases where FPV(test)<FPV(100)	
N (years)	100	150	200	5th %tile	All	FPV<100
10		9.4	50	93	85		90	87
20		7.3	42	73	91		84	74
30		6.2	33	65	94		74	54
32		6.2	30	64	94		74	55
34		6.0	29	63	94		72	51
35		6.3	28	63	94		71	50
36		6.1	29	62	95		70	49
37		6.0	29	62	95		71	46
38		5.9	29	61	96		64	37
39		6.3	30	59	96		63	43
40*		6.2	29	58	96		
* 40 years is equivalent to holding a stock allocation of 100% for the entire period
Here the results indicate that generally there were only minor differences in performance when N>30 years (i.e. where the stock % was gradually reduced within the last 10 years of the accumulation period). However, for accumulation periods where FPV<100, using N>35 means that there was a better than even chance of ending up with a higher FPV than having a fixed allocation of 100%. While transitioning two years before retirement appears to be optimum in this respect, the relatively small number of cases where FPV<100 (~80) means that one should be wary of drawing firm conclusions.
Looking at these outcomes there are a few, probably unsurprising, conclusions
High stock allocations in accumulation tended to lead to larger FPV. Even using 80% instead of 100% doubled the probability of ending with a relatively small portfolio (FPV<100).
Age in bonds variants in accumulation gave broadly the same results as holding the stock allocation fixed at the mean stock level.
Holding the stock allocation fixed for N years and then decreasing it would have helped improve outcomes when the FPV was relatively small (i.e. FPV <100). For the example glide path (i.e. 100% to 50% stocks) presented here, starting the de-risking process in the final 5 years (but not the final year) gave the best results, but anytime in the last 10 years gave fairly similar outcomes.
Be lucky - the variation in outcomes with start year was extremely large. From the graph,, for stocks=100%, all the instances where FPV<100 occurred in or before the 1940s while outcomes since 1970 have given FPV>150. The outcome can change very quickly, e.g. accumulators starting in the early 1930s (so retiring in the early 1970s) would have had very nice outcomes (FPV>300), while those starting a just few years later (in the late 1930s and retiring in the late 1970s) had a much smaller FPV.
There are some limitations of the above modelling. Firstly, it has been assumed that the contributions are fixed in real-terms with time. For many people, their salary will increase as their career develops, so the actual FPV are likely to be higher than presented here. Secondly, results have only been presented for a limited range of asset allocation strategies (e.g. strategies that involve changing the allocation when 'enough' has been accumulated or more sophisticated approaches such as TPAW,
viewtopic.php?f=10&t=331368
, have not been included). Finally, the results indicate what would have happened in the US in the past and that data set is limited. While the results have been quoted to two significant figures, if one considers that the data set only gives 3 or 4 independent 40 year periods of accumulation then only 1 significant figure is justified, whereas if the overlapping periods are considered somewhat independent, then perhaps 2 significant figures are just about justified. As ever, the future may not be the same as the past!
cheers
StillGoing