Hi all. In the
Bogleheads' Guide to Investing
book (which I love,) they provide some sample portfolios (photo below:)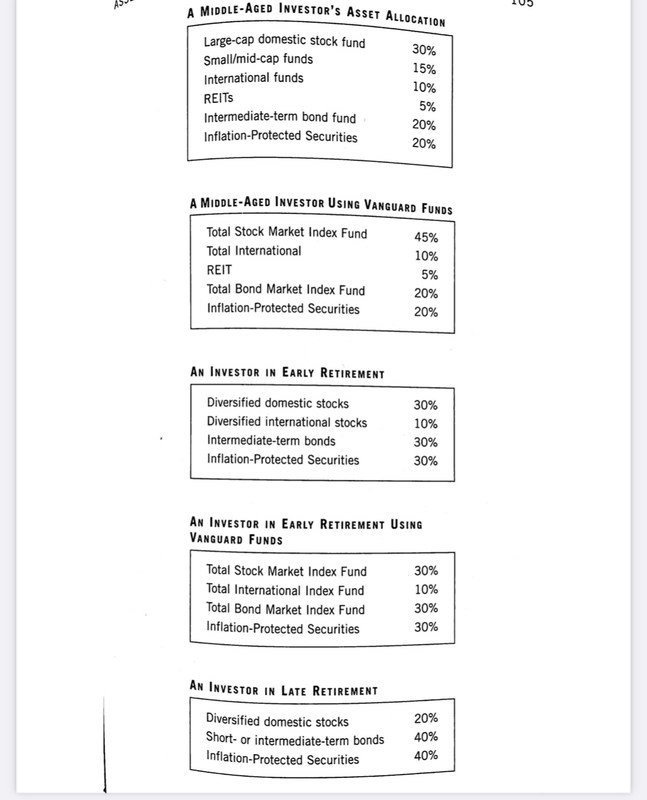 An observation in particular is how they suggest splitting one's bond allocation as follows:
50% Total Bond Market
50% TIPS Fund
They discuss the diversification benefits by comparing Total Bond Market to a TIPS fund (chart below:)
I would guess that most Bogleheads do not hold 50% of their bond allocations in TIPS.
(I would also question if a 5% allocation to REITs is necessary.)
I personally use the Vanguard Target Retirement funds, which do not have an allocation to TIPS (except as you near and enter retirement.)
I am looking for thoughts on the importance of balancing the Total Bond Market fund with a TIPS fund, perhaps 50/50.
I also understand there are concerns with TIPS funds, such as: 1. They haven't been tested in a hyperinflationary environment
2. They don't accurately reflect inflation?
3. What if the govt does not honor them if they skyrocket
4. A TIPS fund is not as well diversified as Total Bond Market
5. TIPS only make up about 15-20% of the bond market, so allocating half of your bonds to them would be out of line.
Etc.