The Federal Reserve's rapid and intense response to the economic situation caused by COVID-19 has alarmed many investors, making them very concerned about inflation. Many are convinced that an increased money supply will inevitably lead to higher inflation. This post is a humble questioning of that logic.
The first graph below is the M3 money supply over the last 10 years. It has more than doubled over this period of time, going from 8.6 trillion to 18.3 trillion.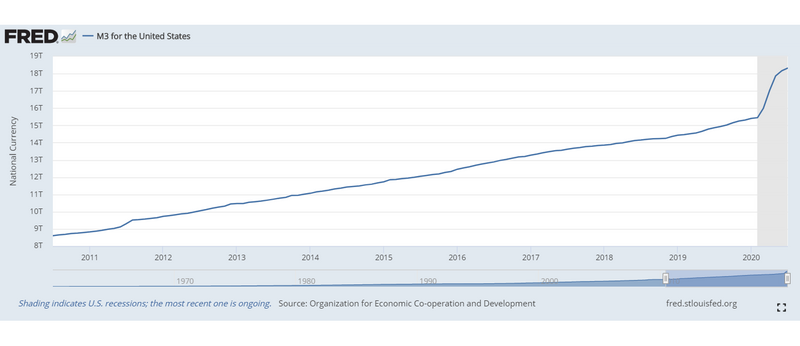 https://fred.stlouisfed.org/series/MABMM301USM189S
The above graph would strongly suggest to many that inflation must have been very high over the last 10 years. But, on the contrary, inflation has been very low, as the graph below illustrates.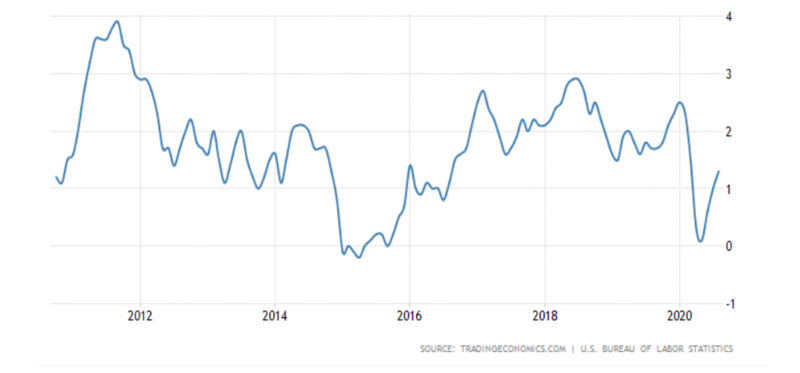 Some have suggested that this is because CPI is grossly understating actual inflation. But there is another explanation, one less controversial and conspiratorial.
The classical theory of inflation, as espoused by the philosopher David Hume and other early thinkers, only considered money growth, which is the increase in the money stock supplied by the government, to be the main cause of inflation, but money growth is a necessary, but not sufficient, condition for inflation. The velocity of money must also be considered, since there can be no inflation unless the money is spent. For instance, if the money supply has expanded, but the people take it home and stuff it in their mattresses, then it will have no effect on inflation.
emphasis added
https://thismatter.com/money/banking/mo ... real%20GDP
.
Then what has happened to the velocity of money over the last decade? It has decreased almost in lockstep with the increase in the money supply, as the graph below depicts.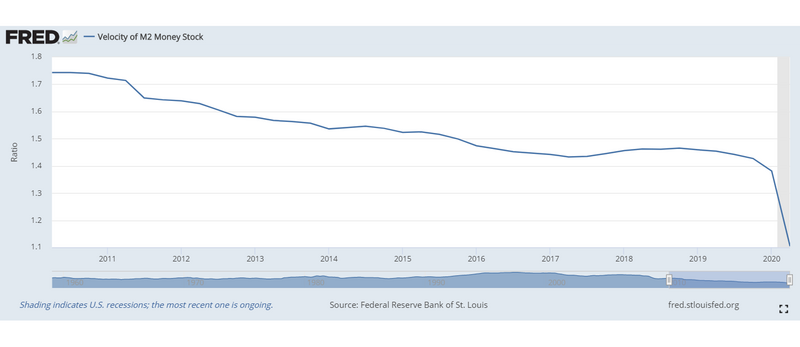 https://fred.stlouisfed.org/series/M2V
The reader will see that 2020 has seen both a rapid increase in the money supply and a rapid decrease in the velocity of money. While, all else being equal, a larger money supply would lead to higher inflation, the additional money in the economy is apparently not changing hands much.
We may see the velocity of money stop falling and even increase in the future, leading to inflation, but the trend we've seen for the last decade and especially this year does not appear to indicate that to be a likely possibility. Perhaps this is why the market is only forecasting inflation over the next 10 years to be
1.73%
.