Dear Bogleheads,
I thought it would be a useful exercise (using Python programming language) to look at fund returns vs fees and thought I would share my results with the community.
I downloaded a dataset of about 27,000 mutual funds and etfs for the years 2011-2018. With this data, I plotted out distributions of fund/etf returns vs fees brackets in 0.25% increments e.g. 0-0.25%, 0.25%-0.5% and so forth all the way up to > 2.5% (which is highway robbery by the way) for years 2011-2018.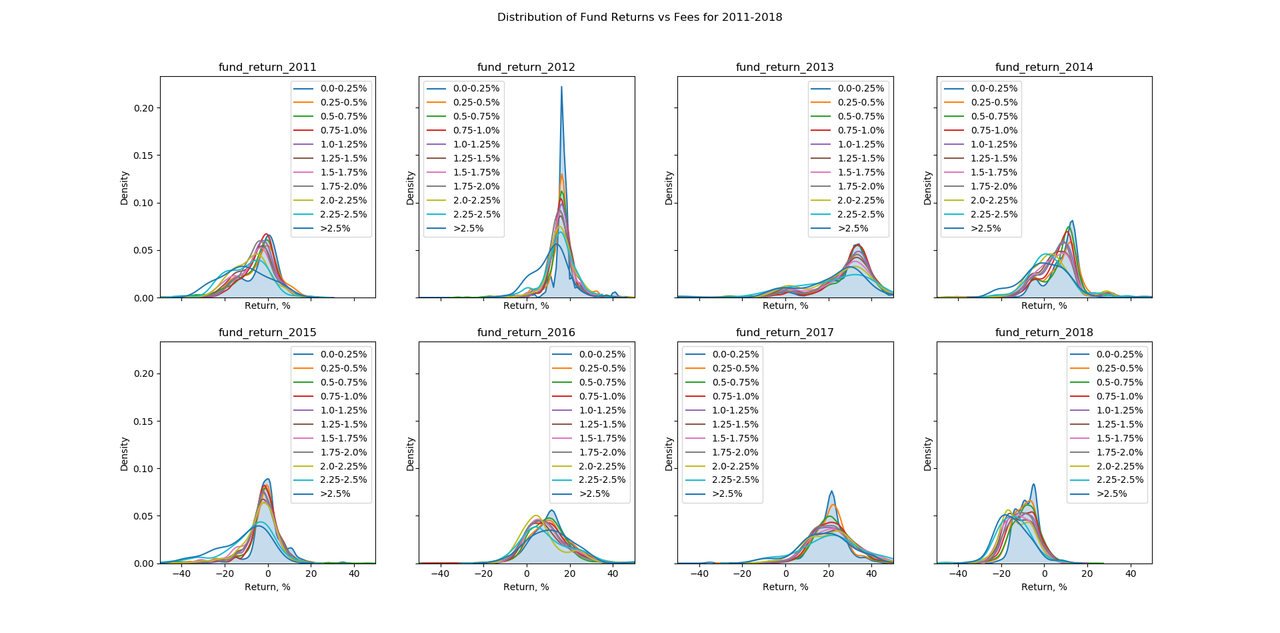 I've taken the liberty to highlight the 0-0.25% fee bracket because arguably, this is is where the low cost index funds are. There are usually multimodal distributions present in the data, most likely because there are different fund types mixed in the dataset (allocation, target dates, international, bonds etc that performed differently each year). Showing only the funds that contained > 95% stock helped to clean up the data.
My observations on this dataset are not earth-shattering, and have only reinforced what I have learned from reading my favorite financial literature and the Bogleheads website.
1. The more you pay in fees, the less your average return.
2. The more you pay in fees, the larger your standard deviation - thus the probability for losing return.
3. Another way of looking at this, low cost funds perform just as well or better than high cost funds, particularly over time with less standard deviation.
In times of turmoil, this just reminds me to stay the course, don't try to beat the market, just capture the market return.
*updated with postimages instead of google drive share