This is a follow up to several other threads in which TIPS yield seasonal adjustments have been discussed, but I thought it would be good to start a new thread focused specifically on this topic. For background, the most recent thread on this topic in which I've participated is this one:
TIPs ladder mavens: help me understand some yield anomalies
.
Starting with the 30,000 foot view, here is the TIPS yield curve based on ask yields loaded from Vanguard on 4/15/2020 (so with a settlement date of 4/16/2020):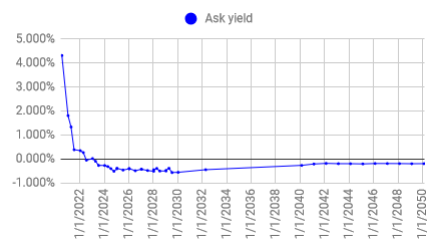 We can observe that the yield curve is steeply inverted with positive real yields at the short end, with negative real yields at other maturities, and an overall fairly flat yield curve beyond the shortest maturities. We also observe a crazy high yield for the shortest maturity TIPS, maturing 7/15/2020. None of this is the focus of this post, although we can certainly engage in tangent discussions of these observations if desired.
We also see some bumpiness in the curve for maturities out to about 2030, and this is a main focus of this post, so let's zoom into these shorter maturities.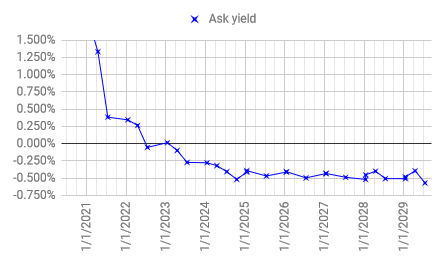 Here we can see kind of a saw-tooth pattern in the yields, although it's not as exaggerated as at some times in the past.
What has been determined in previous forum discussions about this saw-tooth pattern is that much of it can be explained by seasonality in the CPI. TIPS traders are very aware of this seasonality, and adjust their ask and bid prices accordingly based on seasonally adjusted CPI (TIPS inflation adjustments are based on non-seasonally adjusted CPI).
Previous forum discussions have resulted in several methods of adjusting for seasonality, which smooths out the yield curve to something more like we'd expect to see. Forum member #Cruncher developed one method, but it was quite complex, with quite a few intermediate calculations required. In the thread linked above, a forum member discovered a much simpler method published by Paul Canty (links provided in that thread). I incorporated both methods into my TIPS seasonal adjustment spreadsheet, and determined that both methods result in virtually identical seasonally adjusted values. The chart below shows the seasonally adjusted yields along with the quoted yields (from the chart above):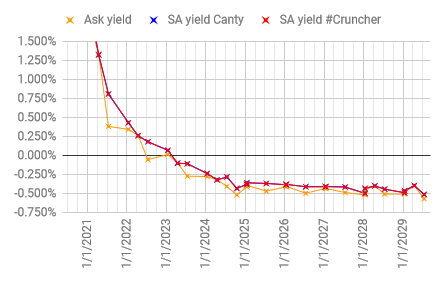 Note that the #Cruncher and Canty seasonally adjusted yields appear as a single curve (looks red, but includes red and blue), but I continue to include them both as a sanity check. Sorry that I changed color for the ask yields.
Although there still is some bumpiness in the seasonally adjusted yield curve, it is significantly smoother than the yield curve based on quoted yields. I think the residual bumpiness is related to differences in coupon rates, which affects duration, and possibly also differences in inflation factors, but others can chime in with their own analysis.
Another main point of this post is to note that the seasonally adjusted values for TIPS maturing on 4/15 (of any year) are almost identical to the quoted yields; they would have been exactly identical if I had pulled the quotes on 4/14/2020 for a 4/15/2020 settlement, but I had some technical problems on 4/14, so didn't get a good set of quotes until 4/15.
Seeing this in the chart requires a close look, noting that that points near the first minor gridlines are for TIPS maturing on 4/15, and noting that the quoted and seasonally-adjusted yields are indistinguishable for these maturities.
The TIPS near the second minor gridlines are for TIPS maturing 7/15, and these are the ones with the largest discrepancies between quoted and seasonally-adjusted yields.
If we generate this chart again in July with quotes from 7/14/2020 (for 7/15/2020 settlement), we'll see just the opposite, with no differences between the quoted and seasonally-adjusted yields for TIPS maturing 7/15, and significant differences for TIPS maturing 4/15.
I'll pause here for now, and see if anyone has any questions or additional observations. I recommend at least scanning through the thread linked at the beginning of this post if you're interested in this topic, and even tracking back through some of the earlier threads if you're really interested.
Kevin