A bit of an introduction- I'm a "long time lurker" here on Bogleheads.org; I just noticed some recent posts concerning Roth Conversion modeling that fits in with some modeling I've been doing about conversions from traditional IRAs (tIRAs)to Roth IRAs (Roth) accounts.
Some background: Most of our portfolio is in tax deferred accounts. I did some initial analysis to determine the effects of Required Minimum Distributions (RMDs) and it seemed that these could cause a fairly large tax bill. I looked around and found a few web sites that provided some analysis of Roth conversions; however it wasn't clear to me how they worked or what assumptions they made.
I ended up writing my own model using MS Excel. It is a pretty large workbook that uses a MILP (mixed integer linear programming) to find the optimal sequence of Roth Conversions, Roth Withdraws, tIRA withdraws, and selling of assets outside of IRAs (including capital gains) to:
a. Meet annual expenses (including taxes), and
b. Maximize the ending value of the portfolio.
The size of the model exceed the capability of the standard excel "solver" add-in; fortunately there is a good GNU "freeware" add in called "OpenSolver" (
https://opensolver.org/
) that can handle a model of this size (it ended up having 2022 variables with 2580 constraints).
I included income taxes, capital gains taxes and taxes on social security (which BTW end up being quite complicated).
Most of what the model shows are consistent with the conventional wisdom about Roth conversions:
1. Using Roth conversions can end up saving a fair amount of money if you have a large amount of your portfolio in tIRA accounts, but you need to have a long investing horizon. In most cases it takes 20-25 years for the portfolio using Roth Conversions to overtake the portfolio Roths.
2. The main benefit of Roths seems to be reducing the RMDs (now you must take them starting at age 70 1/2, proposed to be age 72).
There are also estate planning benefits to passing Roth accounts to your heirs (which will be greater if the proposal to force inherited tIRAs to be sold over a 10 years period).
However, there is one benefit of Roths that the optimization model shows that I didn't expect.
In some cases the "optimal" solution the program kicks out has Roth withdraws for the first couple of years that you collect Social Security Benefits. This reduces the percentage of the SS benefit that is taxed since Roth WDs don't count toward the income used to determine how much of your social security benefit that is subject to tax. In some cases this can result in a pretty sizable reduction in income taxes.
Has anyone on the boards have used Roths in this way?
Here's an example from the model to illustrate this:
The scenario:
1. Initial traditional IRA (tIRA) of $2M.
2. Initial Roth IRA of $0.
3. Initial funds outside of the IRAs of $500K with a cost basis of $400K
4. Start at age 60 with 30 years in the plan.
5. Need $100K real (ie before inflation) per year plus whatever income taxes are due from the prior year.
6. The portfolio returns an average of 2.5% real. Also, the non tIRA accounts have a qualified dividend rate of 2% and a non qualified dividend rate of 0.25%.
7. Social Security Benefits are $40K per year starting at age 67.
8. Tax filing status is married filing jointly
9. RMD must start at age 72.
10. All numbers are real (ie inflation adjusted) numbers. Note that tax brackets and social security benefits are adjusted for inflation each year.
11. No state income taxes are include in this scenario.
12. 2018 tax tables are used, with the standard deduction of $24K. All 7 tax brackets are included, as well as the three cap gains rates (0%,15%, 20%). Things like alternate minimum taxes and the reduction of the standard deduction as income increases are not included.
13. Two cases are examined: One which allows Roth conversions and the other does not allow Roths.
First, here's the portfolio values over the course of the plan: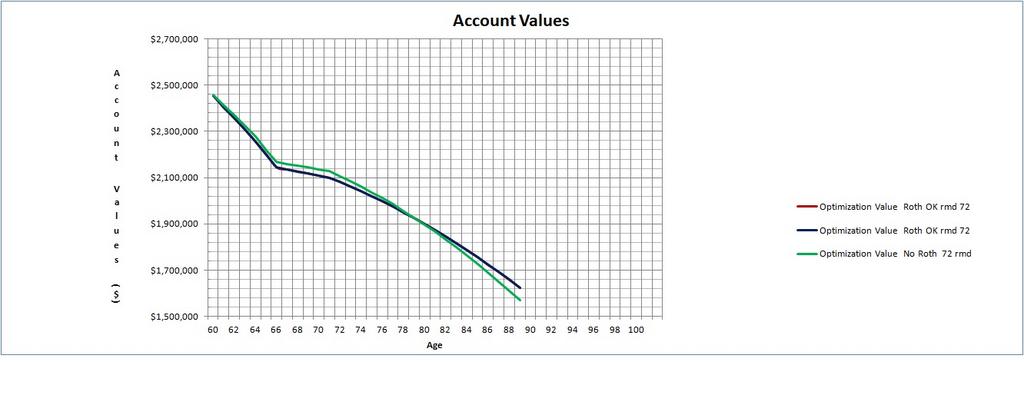 Note that it takes about 20 years for the value of the portfolio using the roth to exceed the non-roth scenario. At the end of the model period the value of the Roth scenario is about $55K greater than the non-Roth scenario.
Here's the Roth conversion/Roth withdraw sequence: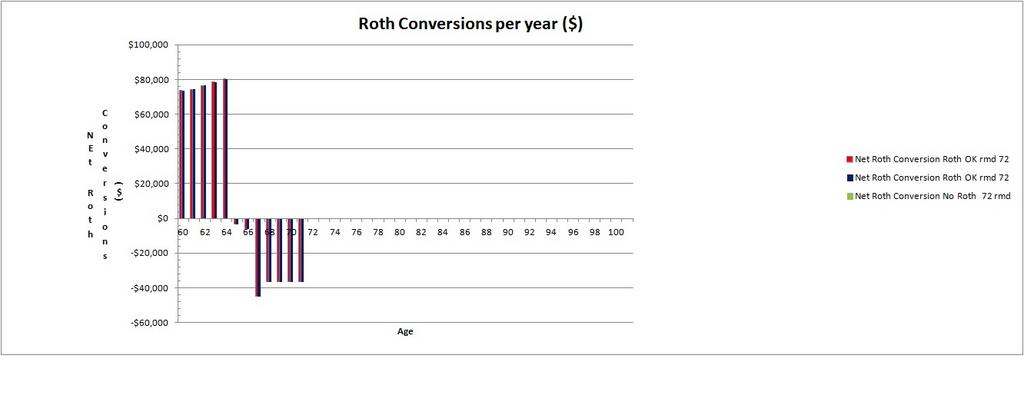 A couple of comments:
a. The way the tax laws are written the capital gains tax rate is 0% if the sum of taxable income less deductions plus capital gains is less than $78950 (2018 married filing jointly) . The model seemed to have selected a Roth conversion amount that keeps the capital gains plus taxable income just below this threshold.
b. The Roth withdraws between age 67 and 72 seem to be to reduce the amount of taxable social security.
Percentage of social security benefit that is taxable: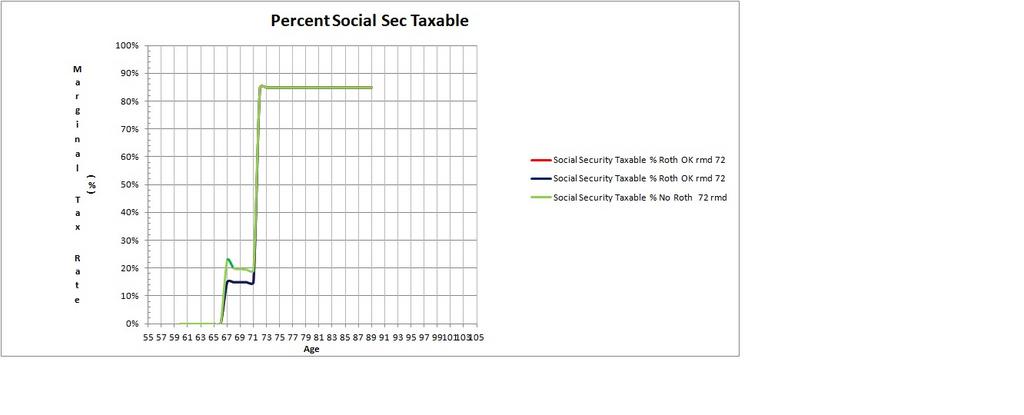 Note the effect of the Roth withdraw on taxable SS benefit between ages 67 and 72. After age 72 the RMD causes taxable income to increase to the point where you can't use Roth withdraws to reduce income.
Taxes due per year: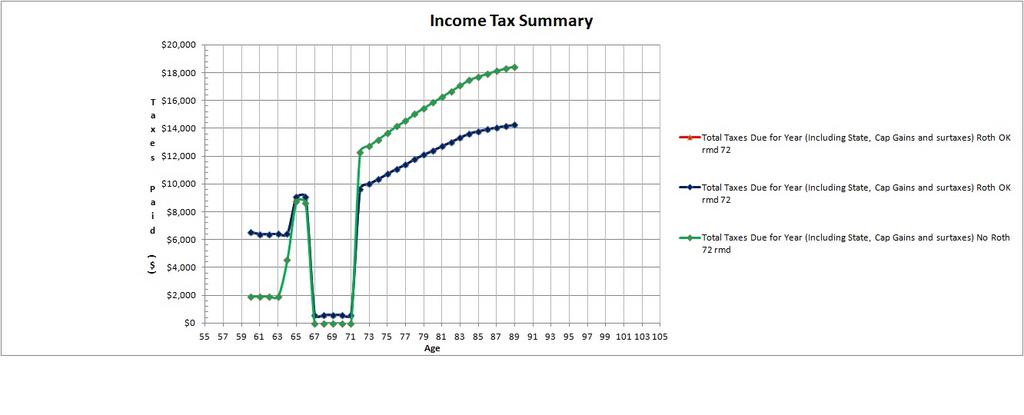 Required minimum distributions: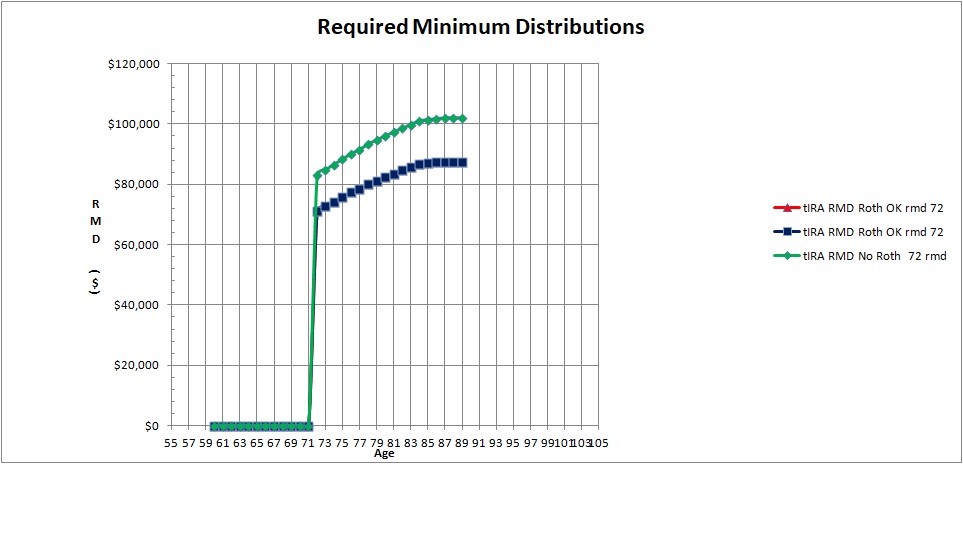 Conversion/withdraw patterns for the Roth conversion scenario: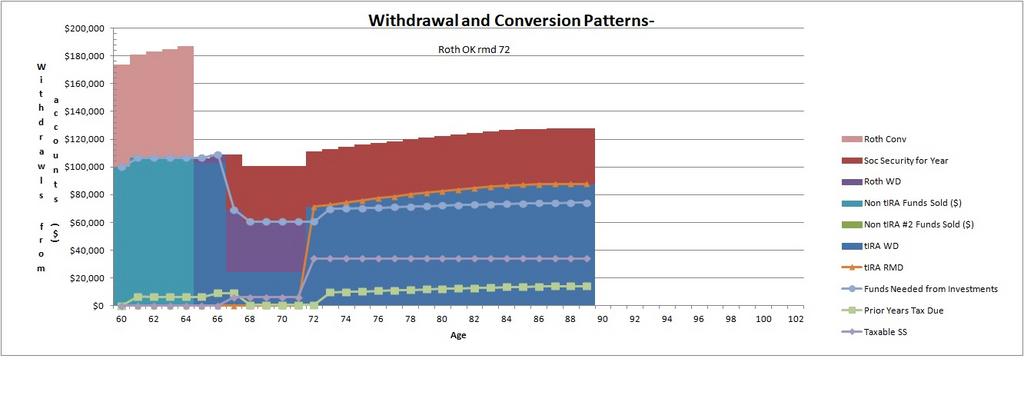 Conversion/withdraw patterns for the non-Roth conversion scenario:
The interesting part of this conversion pattern is that it seems to be "saving" the non-tIRA funds until after the social security benefits starts. Also, tIRA withdraws are started early to both allow for this "saving" of non-tIRA funds as well as reducing the RMD at age 72.
Any thoughts/comments would be greatly appreciated.