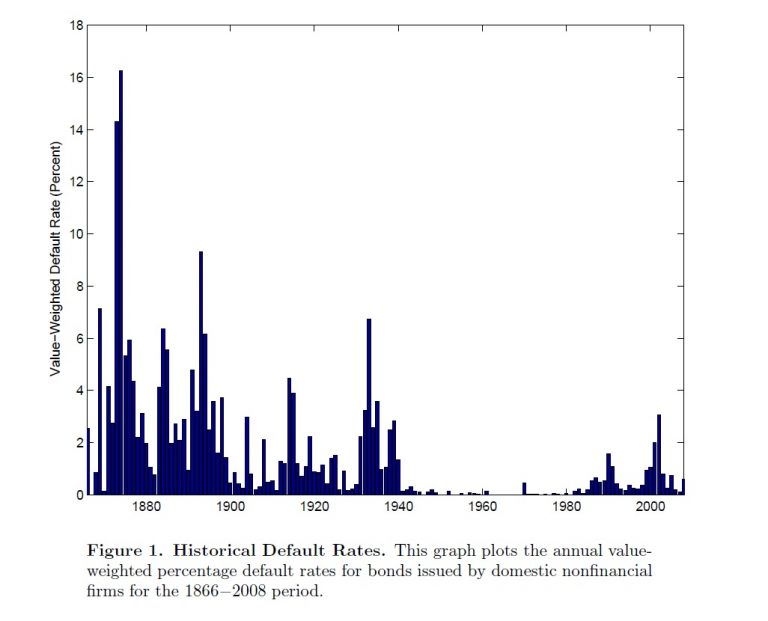 The above figure comes from the paper, which is linked below:
https://www.nber.org/papers/w15848.pdf
"Corporate Bond Default Risk: A 150-Year Perspective
Kay Giesecke, Francis A. Longstaff, Stephen Schaefer, and Ilya Strebulaev
NBER Working Paper No. 15848
March 2010
JEL No. G12,G33
ABSTRACT
We study corporate bond default rates using an extensive new data set spanning the 1866–2008 period.
We find that the corporate bond market has repeatedly suffered clustered default events much worse
than those experienced during the Great Depression. For example, during the railroad crisis of 1873–1875,
total defaults amounted to 36 percent of the par value of the entire corporate bond market..."
I have heard those who make the argument to stick with treasuries, when it comes to your fixed income exposure. I have also heard the arguments that historically, there has been an advantage to owning high grade corporate bonds, as long as you stick to short term corporate bonds.
It may depend on what role fixed income plays in your portfolio. But if you see fixed income as the ballast of your portfolio, the above is relevant. You have to consider the probability, albeit small, that default rates can be significant.