welcome to the forum.
are you asking a question?
If so, is it, "Hey, what do y'all think about a 90% VTI / 10% treasury portfolio from age 50 to death?" (as in that's how Warren B. recommended his trustee invest his money for the benefit of his wife)? Because that's not what he recommended, but it's close. He actually recommended 90% S&P500 and 10% short term treasuries.
My advice to the trustee couldn't be more simple: Put 10% of the cash in short-term government bonds and 90% in a very low-cost S&P 500 index fund. (I suggest Vanguard's.) I believe the trust's long-term results from this policy will be superior to those attained by most investors — whether pension funds, institutions or individuals — who employ high-fee managers.

source:

https://www.marketwatch.com/story/warre ... 2014-03-13

that being said, two things:
1. looking backward doesn't help. If you think so try driving by only looking into the rear view mirror and see what happens.
The future may look very different from the past. We don't know. What we do know is "Past performance is no guarantee of future results."
2. whether 90/10 is right for anyone is a personal decision. If it's fine for you, fine. It may not be fine for others, and that's fine too. a 90/10 portfolio could lose 40% of the value of the entire portfolio in a bear market that falls 50%: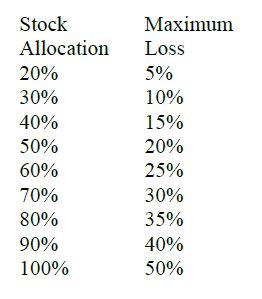 Now that might be fine if you don't need any of that portfolio money and can sit around and wait for it to recover. Otherwise, you'll be selling a part of your portfolio that has fallen 50%. Why would you want to do that?
So, risk is a personal decision. Everyone needs to figure out how much risk they have the need, the ability and the willingness to handle.
If someone has won the game, why do they need to keep playing and risk 90% of their net worth...to make more money they don't need? If you want to look up to Warren, you have to acknowledge everything he has said over the years, not just some of it. Like the following:
"Our aversion to leverage has dampened our returns over the years. But Charlie and I sleep well. Both of us believe it is insane to risk what you have and need in order to obtain what you don't need. We held this view 50 years ago when we each ran an investment partnership, funded by a few friends and relatives who trusted us. We also hold it today after a million or so 'partners' have joined us at Berkshire."

source:

https://www.cnbc.com/2018/02/24/highlig ... etter.html