Here's a chart of the yield curves I've been using for my fixed-income investment decisions lately. This is from Friday, or whatever yields Fidelity is showing right now. I pull the yields from the
Fidelity Bonds & CDs yields webpage
into a Google Sheets spreadsheet using IMPORTHTML to construct this.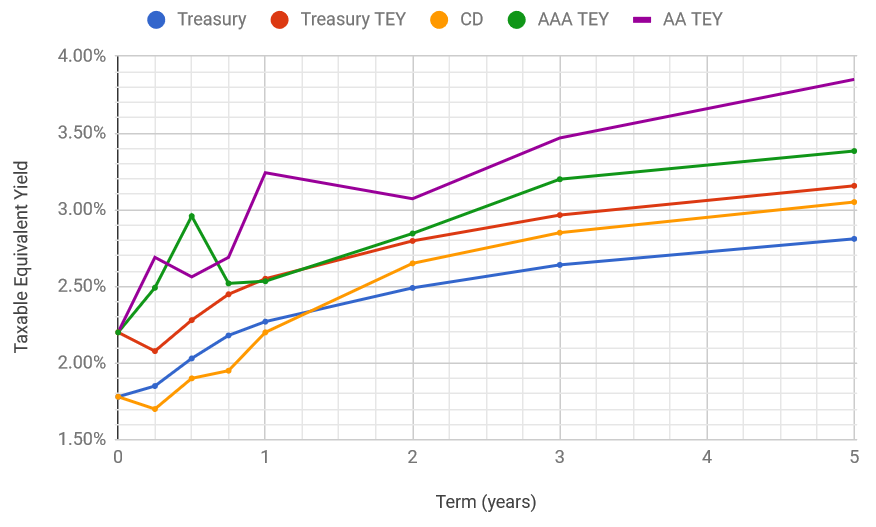 Before some observations, here are some caveats and explanations.
Treasury yields typically are for large quantities, like 100 ($100,000 face value) or more, and may be for maturities that are as much as one month more than indicated. So the yields I get probably are a bit lower.
TEY stands for Taxable Equivalent Yield, and are the TEYs for my marginal federal and state tax rates of 27% and 8%, not itemizing deductions. I convert anything that has a federal or state tax exemption to TEY so I can compare apples to apples for investments in taxable accounts. Note for example that Treasury TEY is higher than Treasury, and that Treasuries could have higher TEYs than CDs in taxable accounts, but lower yields in tax-advantaged. This is because of the state tax exemption and my 8% marginal state tax rate.
CD yields are for new-issue CDs. I usually can find slightly higher yields for same maturities in secondary market.
There are no commissions for Treasuries or new-issue CDs, so these yields do not need to be adjusted for commissions. But remember that Treasury yields probably are higher than what I would actually pay for smaller quantities at maturities closer to those indicated, but the yields are good enough for initial decision making.
There is a $1 per bond commission at Fidelity for secondary munis (so 0.1%), so muni yields are higher than what I'd actually get. Also, the yields are for munis that I might not want to buy, either because they have undesirable call features, or are in municipalities that I do not want to buy (or buy more of). Still, this gives me a rough idea of the relative attractiveness of munis in taxable accounts.
For now I'll just observe that what looks best to me depends on whether it's in a tax-advantaged or taxable account, and the particular term to maturity I'm looking at. I am not dogmatic about what I'll buy--I have been buying Treasuries, CDs and munis.
Kevin