In my opinion there is no rational way to explain this as an objective response to anything; the world and the fundamental principles of investing could not have changed
this
much. I think the change in Malkiel's views are mostly a reflection of changes in mainstream conventional wisdom, but that in itself raises questions.
Burton Malkiel,
A Random Walk Down Wall Street
, 1990 edition (the first one to include lifecycle portfolio suggestions)
1990: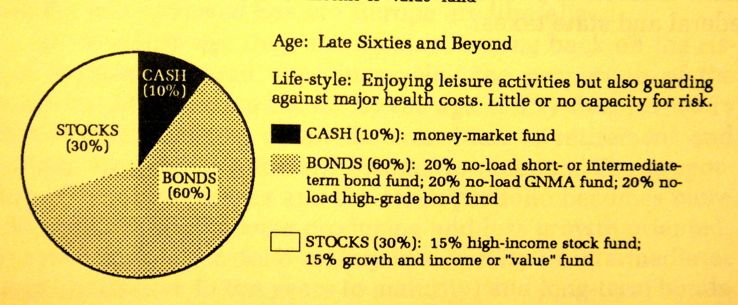 The omission of international stocks is not an oversight; in 1990 he recommended that international stocks be 15% of total portfolio in "mid-twenties," 10% of total portfolio in "mid-fifties," and none at all in "late sixties and beyond."
2015: Current edition (eleventh) W. W. Norton, ISBN-13: 978-0393246117 ISBN-10: 0393246116.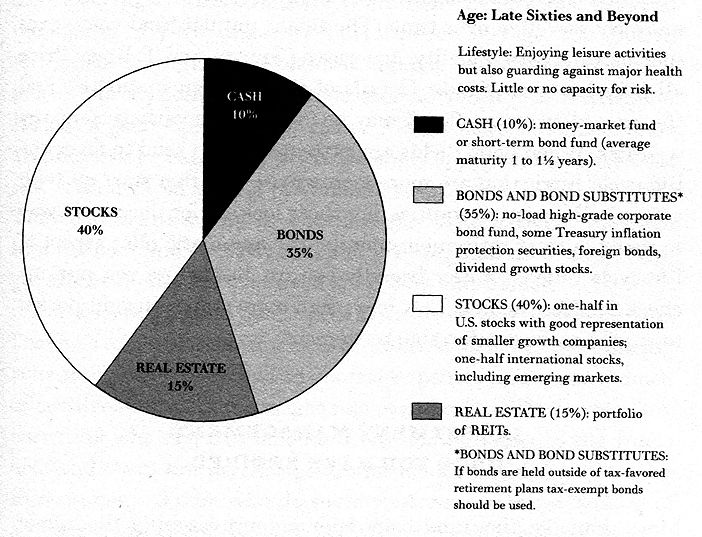 Notice that the stock allocation has increased much more than a glance at the pie chart shows, because "real estate" means, specifically, REITS, and because he allows "dividend growth stocks" to be included in "bonds!" Thus the stock allocation for a retiree in 2015 is close to 60%, double what he recommended in 1990.
I think it is instructive to compare his 2015 recommendation for "late sixties to his 1990 recommendation for "late thirties to early forties:"
1990: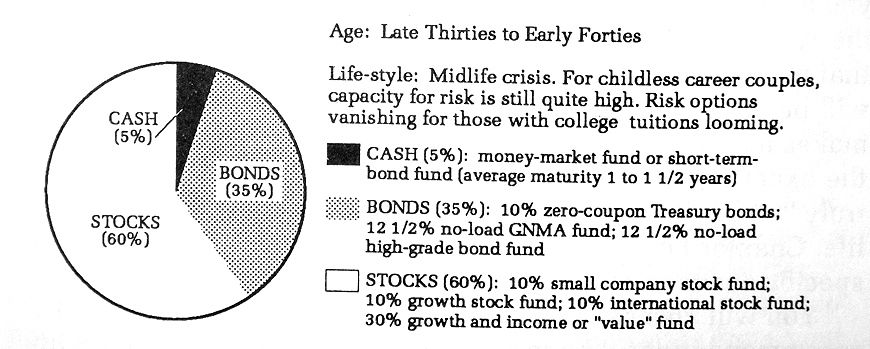 Someone in their late thirties to early forties who invested according to Malkiel's recommendations in 1990 and continued to followed them in subsequent editions of the book
would not, in fact, have reduced her risk at all!
In every edition of his book, he has recommended risk reduction with age--yet his overall recommendations have gotten progressively more aggressive, so that the risk reduction never occurs! The risk reduction with age is entirely offset by general increases in aggressiveness across the board.
(This happen to parallel what has actually happened in Vanguard's target retirement funds).