The information below is my best attempt to follow the "Asking Portfolio Questions" template on the Bogleheads site, with some minor variations and adjustments.
Emergency funds:
$70K in regular savings.
Debt:
No current debt. Pay off CC each month. May purchase car in next year, so planning $500/month payment unless I pay cash.
Tax Filing Status:
Single
Tax Rate:
Effective rates: 14.5% Federal, 3% State
State of Residence:
Ohio
Age:
73
Relevant Personal Info
I'm single, no immediate family, but I do have four siblings, two of whom I'd like to help more. I have no other assets, such as a home or real estate investments, fine art, jewelry, etc. If I have some money to leave when I die, that'd be great. But if I spend it all, that's OK too.
My current income is from a small pension and a decent social security check (I waited until I was 70). I'm finding I can live OK on that combined income stream, though I may want to purchase a condo at some point. My RMD, after 25% to the IRS, goes back into my taxable account. I drive a 20-year-old car, if that tells you anything about my lifestyle
My biggest financial concerns (other than markets crashing) are 1)being able to fund my last few years in a senior living situation, 2)helping my two sisters out, and 3)being able to continue making annual contributions to my favorite charities.
I've been at Schwab for several years and overall I'm very pleased with them, and especially with my new account rep. I've moved money several times and it's a pain. Schwab set it up so I can trade Vanguard funds with no trading fees, except of course for any redemption fees I might incur.
Before the nitty gritty starts below, I apologize for being too long-winded, redundant, repetitious, or whatever human failing is evident in this post. Oh, and for also occasionally using two periods at the end of a sentence, unless the BB removes them. Hey, I'm old. Thanks for bearing with me.
Current Asset Allocation:
*From February 2022
35% US Equity
10% Intl Equity
11% Fixed Income
44% Cash
Desired Asset Allocation:
25% US Large Cap
5% US Small Cap
10% International
50% Fixed Income
10% Cash
Current Portfolio and some background information
I'm obviously well aware of my cash problem, and of too high expense ratios, particularly in the Roth holdings.
I have four accounts - two taxable, one of them a Schwab Intelligent Portfolios (SIP) account, the other a regular retail taxable account. Then I have a Rollover IRA, and a Roth IRA.
I'm way overloaded with cash, partly because a good chunk of it was in bond-ladder ETF's (Guggenheim Bullet Shares, now something else) spanning several years. They've all liquidated now. Another part of the reason is that I was careless with stop-loss orders a few years back and a lot of valuable assets sold quickly during a volatile period. Also, I'm nervous about the bond market because of interest-rate risk.
In general, fear and overall inertia have held me back over the last few years. I go through periods of reading a lot, and then either life gets in the way, or I lose interest, or more likely I just become completely overwhelmed, leading to indecision and procrastination.
I've been happy making about 35-40% of what the major indexes were doing, even with too much cash. The SIP account was a major blunder in that I used taxable dollars, so getting out of all that "needless complexity masking as sophistication" (IMHO) will result in <mostly> long-term gains. By the way, SIP didn't do a very good job with tax-loss harvesting, even in down times.
My accounts are listed below (images from a spreadsheet), as well as a
cash summary at the end
. Apologies for the different size images.
All cash held in investment accounts is available for investing, except the 10% cash reserve as mentioned above in
Desired Asset Allocation
.
Taxable

Taxable - SIP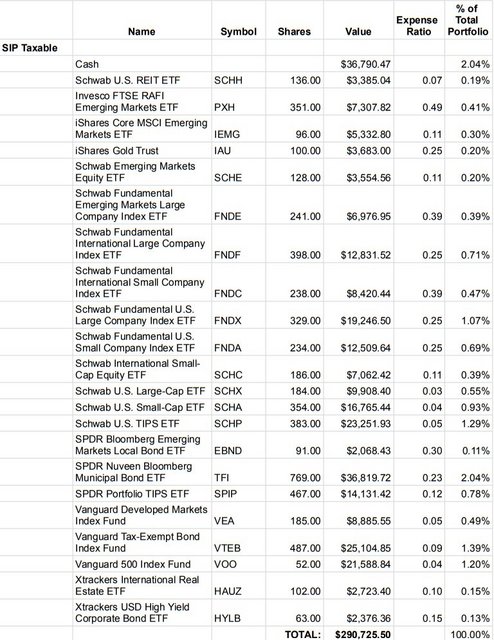 Rollover IRA

Roth IRA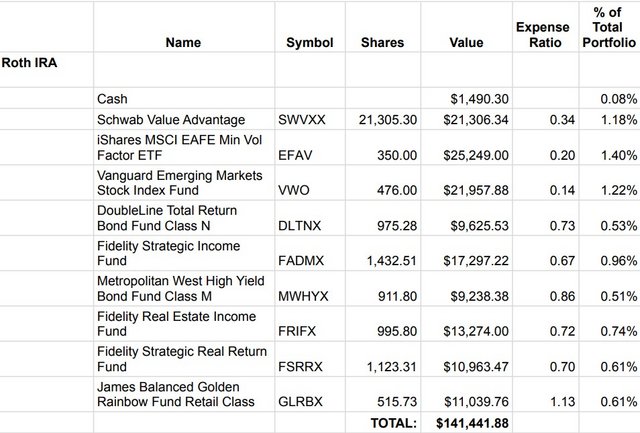 Cash Summary

After-tax RMD amounts (30 - 35K typically)
Contributions
No longer allowed to make contributions, unless there's something I'm missing. A Roth conversion (see below in Questions) might be possible
Questions
:
1. How do I simplify this mess? Should I just go with a Vanguard (or Schwab ETF equivalent) three of four fund portfolio? Actually, I'm not that far off from my desired allocation, exception converting the cash to fixed income.
2. Should I sell out of SIP all-at-once, or gradually? Or maybe I should keep SIP and let the cash there serve as part of my desired cash allocation. Same problem for the non-cash holdings in the regular taxable account though the numbers are smaller.
3. I have 3 equities with no cost basis. Not sure what to declare for those. Info got lost in the transfer process from other institutions, and one was for gifts of company stock but I can't remember the dates. How safe is it to take guesses on figuring out cost basis?
4. The Roth holdings were based on advice from a Fidelity rep long ago. The account has performed badly, even in good times. I'd like to make it my highest risk account because it's the last money I'll spend.
5. I've always been concerned about interest-rate risk even though it's never really materialized. I-Bonds are yielding 9.7% currently, but the limit is $10K in a single year. Is it a good place to stash some cash, knowing I'll be able to wait the 12 months to maturity? What other bond investments, other than Vanguard's fixed income funds, might make sense? Schwab had recommended SWVXX (money market fund) as a holding place when the annual yield was something like 2.5%. No more. I guess short-term treasury ETF's are the only safe option.
6. I'd like to switch to value funds/ETFs in my Rollover IRA and accrue as much as possible from dividends while maintaining relatively stable price performance. Does that make sense? And for the taxable side, invest in muni-bonds so at least I'd get a break from the IRS, even though Medicare adds them into my income to calculate MAGI which is used then to calculate my Part B premiums.
7. I'm getting slammed lately with SPY in the Rollover, because it contains so much tech. Does the 3 or 4 fund approach help smooth this out? I've researched a little on IVV and RSP as good ways to stay in the broad market but more evenly balanced.
8. If I decide to purchase a condo and I have the cash available, is it better to pay for it outright or take a mortgage? When rates were low, I'd have take a mortgage in order to preserve potentially investable assets, but now in a rising rate environment, maybe that's not the best choice.
9. Every year I think about, but never do, a Roth conversion. I've read that converting an amount that takes you to the highest income level within your current marginal tax bracket is a good strategy. It's something I should have done in 2020 when I didn't have to take the RMD because of covid and therefore had a relatively low taxable income. Hindsight! What are other ways to avoid taxes on RMD's and to become more tax-efficient in general?
I keep getting invitations from local money manager types to go to group lunches or dinners. I went to one. The emphasis was on buying annuities and/or letting them manage the money for 1+%. They claim to be fiduciaries, i.e., aren't selling specific products for a commission. Not sure how they can claim that and at the same time trying to sell annuities, or… what am I missing? Years ago, I hired someone to give me advice. She advised that I work 3 more years (this was during the great recession) and then recommended several of the high expense ratio funds in my accounts. Generally speaking, I'm leary of professional advice, unless it really is fee-for-advice only, hopefully along with some good tax advice. Then again, it might be easy to claim that I've been penny-wise but pound-foolish in not being willing to turn it over to someone.
I guess I should end this stream-of-consciousness post. It's taken me forever to decide to do this, and then when I did make up my mind to try, it took me another forever to actually do it. See above re: inertia, procrastination, etc. And finally, thanks for reading this and for any advice you're willing to give. I will respond to all comments, one way or another.