Hello all,
It has been almost eight years since my first post on this forum and since I started my career fresh out of college.
I'm posting my current status as well as links to my seven (and six, five, four) year status for comparison purposes. I find this exercise really helps me focus and remain disciplined year after year.
See this link for my "Checking In After Seven Years" thread, which also includes a link to "Checking In After Six/Five/Four Years"
viewtopic.php?t=268437
Emergency funds:
$5,000 in checking account (adding funds soon)
Debt:
None
Tax Filing Status:
Single
Tax Rate:
24% Federal, 0% State
State of Residence:
Texas
Age:
31
Desired Asset allocation
: 90% stocks / 10% bonds
Desired International allocation:
25% of assets
Desired Detailed Asset Allocation:
45% Large-Cap, 10% Small/Mid-Cap, 25% International, 10% bonds, 10% REIT
Current Asset Allocation:
45% Vang Inst 500 IDX ER 0.01%
10% Vang Inst Ext Mkt ER 0.04%
25% ACWI EX-US ER 0.104%
10% Vang Inst Tot Bd Mkt ER 0.03%
10% Fidelity MSCI Real Estate ER 0.084%
Current retirement assets - Total

$920,000
(Four year was $60,000, Five year was $159,000, Six year was $264,000, Seven year was $553,000)
Taxable
- $63,000 | 2019 Return
27.8%
- Withdrawals $38,000 (Solo 401k Contribution**)
Taxable for Inherited Dollars
- $437,000 | 2019 Return
17.9%
+ Contribution $160,000 (In cash, thinking of DCA over 12 months)
MegaCorp 401k
- $205,000 | 2019 Return
24.2%
+ Contribution = $8,000
New Solo 401k Pre-tax
- $72,500 | 2019 Contribution $36,500 + MegaCorp Pension $36,000
New Solo 401k Roth
- $35,500 | 2019 Contribution $15,500 + MegaCorp 401k After-tax $20,000
Roth IRA
- $100,000 | 2019 Return
30.4%
+ Contribution $6,000
New HSA
- $7,000 | 2019 Contribution $7,000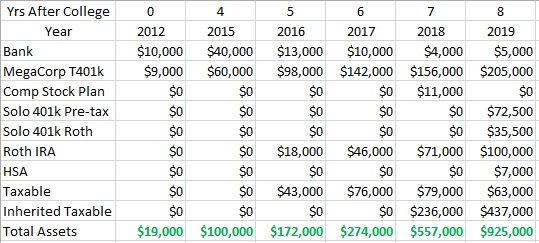 Total Worth Comparison:
Four year -
$100,000
Five year -
$172,000
Six year -
$274,000
Seven year -
$557,000
Eight year -
$925,000
This represents a total gain in my accounts of
$368,000
over a one year period including inherited assets, or $167,000 excluding inherited assets.
New annual Contributions - SE 401K, Roth IRA, HSA - $66,500
SE 401k Traditional Contribution EmployEE/ER
$34,000
SE 401k Roth Contirubtion
$23,000
Already contributed my 2020 $6,000 to Backdoor Roth so that is in "Current Retirement Assets" section
Already contributed my 2019 & 2020 $3,500 to HSA so that is in "Current Retirement Assets" section
**Moving forward I will not have to pull from Taxable account to make Solo 401k contributions. Just the case this year as I only had 6 months to max out the account whereas in 2020 I will have 12 months.
Biggest Changes Since Seven Year Mark
1. Left my Megacorp midway through the year and went to a stable firm that pays me as a contractor.
2. Opened a Solo 401k with Mega Backdoor Roth feature (had at Megacorp too).
3. Created an LLC filing an S-Election to reduce tax liability.
4. Bought an umbrella policy to help ensure asset protection.
5. Finally able to take advantage of an HSA, so contributed for 2019 and 2020.
6. Moved back home after being in major US city and starting to feel settled down.
7. Have found an amazing girlfriend and have family here.
8. Building a home in LCOL area, $60,000 expense for 20% down payment over next few months will be needed. Most of payment will come from 2020 business revenue.
I know my savings rate has been exceptional and I'm fortunate to have inherited assets (more to come in the future, 25% family LLC ownership not included until dollars are realized).



What else can I do at this point?

Is anything missing from my financial plan? Some type of insurance? Some special product I am unaware of? Just want to make sure I'm not missing something while I'm young.
Thank you all for reading and any advice or feedback is appreciated.