I am a professor, widowed, with one daughter about to enter high school. I'd like thoughts about where I stand (as well as thoughts about suggestions from TIAA as to what I should be invested in). I'm 53, and hope to retire when I'm 60.
Emergency Funds
: $14,000 in savings account, $8000 in CD; $20,000 in I-Bonds over 5 years old (purchased in 2003 and face value $10,000).
Debt
: $75,000 mortgage (3.375% interest rate). House value (approximately $260,000).
Tax Filing Status
: Head of Household
Tax Rate
: 22% Federal (marginal); 3% State (flat)
State of Residence
: Pennsylvania
Age
: 53
Desired Asset Allocation
: 70% Stock/30% Bond
Desired International Allocation
: 30% of stock
529 account for daughter
(just about to enter high school): $130,000
Total Portfolio Size
: Approximately $2 million (does not include house or 529 account)
Contributions
$16000 to 403(b) + $8000 Employer Contribution (2019)
$7000 to Roth IRA
Annual expenses (mortgage, private school tuition, groceries, auto (gas/insurance), household, utilities, home repair, travel) $58,000 in 2018.
Below left of the bar are my
current
investments; below right of the bar are the
suggested
403(b) and Savings and Investment Plan (inherited Spousal 403(b)) investments. As you can see, there are more positions in the suggested investments. 403(b) is held at TIAA; IRA and taxable at Fidelity.
Other 403(b) offerings are the TIAA-CREF Lifecycle funds; TIAA Real Estate is not in my 403(b) plan. My employer does not offer a Roth 403(b).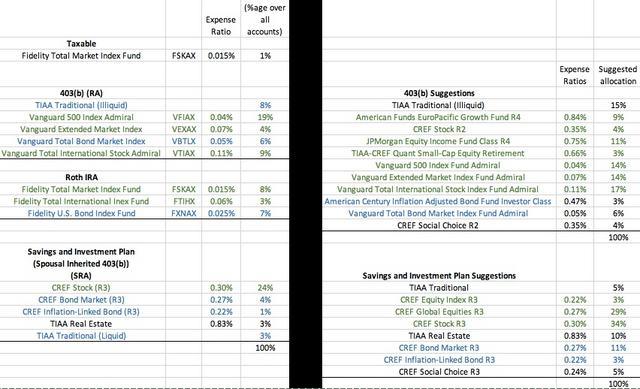 Questions:
My Wealth Management Advisor (WMA) at TIAA has suggested the preceding allocations for future contributions to the 403(b) and reallocation for the SIP (a spousal inherited 403(b)). I am balking because I'm focused on lower expense ratios, but he says that I should focus on what is forecast to be in my estate when I die at 95 (a difference of $600,000). I'm thinking that's a load of BS (who knows what the markets will do?), but I'd like some confirmation.

As for my IRA, he suggested transferring it to TIAA. I'd like to keep my IRA and taxable investment at Fidelity (matter of personal taste).
For the last several years I have contributed the maximum allowed (e.g., $24,500 in 2018) to my 403(b) and the maximum to my Roth IRA. I asked my WMA about taking my foot off the gas a bit (to have some money to do some "fun" stuff with my daughter before she goes off to college, for example). As you can see, only 1% of my total investments is in taxable (a bit more if you include my emergency funds).

He said it was okay — I'm in a pretty good position, he said, (net worth about 33 times current annual expenses). I have lowered the contribution, but what do you think?
Is my WMA really trying to sell me (relatively) expensive mutual funds (or are these the best for me)? I like him (and I'm not paying anything for his advice), but I guess I have to tell him that I'm not interested.