neurosphere

wrote:

↑

Sat May 19, 2018 6:09 pm

But I wish I could easily plot MM yields for a couple decades of data. I could brute-force it in about 30 minutes I suppose. Not not tonight.
I pretty quickly found my spreadsheet with the script in it, and ran it for muni MM from 1/4/1993, which is when SEC yields were first published (the fund inception was 6/10/1980). I'm not sure how easy it is to see any cycles with this much data in the chart, but here it is: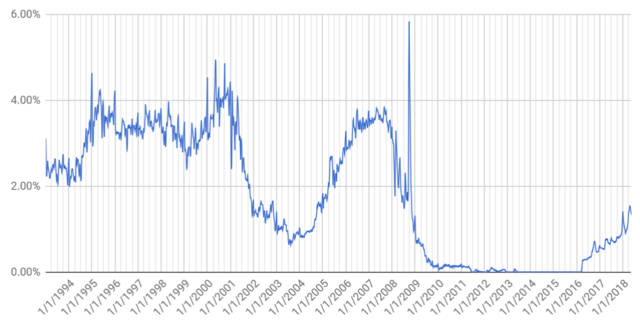 The minor vertical gridlines are quarter boundaries, and just eyeballing a few segments, there do appear to be quarterly peaks. Wouldn't be hard to zoom in on a smaller number of years if you or anyone wants to request a chart of a subset of the years.
Kevin